No-bake chocolate and strawberry icebox cake
Need a super easy recipe for the kids to make Mom on Mother's Day? Look no further than this no-bake dessert. Layers of graham crackers and whipped topping are the base of this easy treat that's then topped off with a chocolate drizzle and fresh sliced strawberries.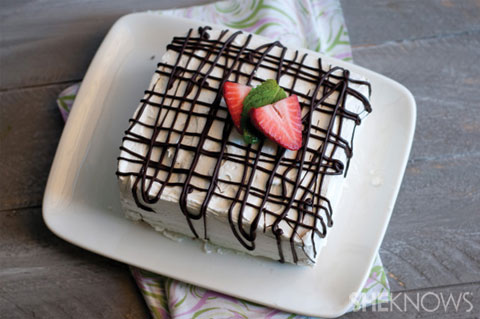 What a fun and easy recipe for the little ones to make Mom. The graham crackers and creamy whipped topping look like a layer cake when sliced! This is not only a great Mother's Day treat but also doubles as a summer dessert when it's too hot out to bake.
No-bake chocolate and strawberry icebox cake recipe
Inspired by thekitchn
Yields 12 servings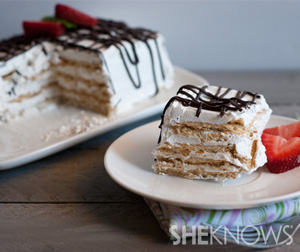 Ingredients:
A large baking dish (9 x 13-inch is ideal)
2 (8 ounce) tubs whipped topping
1 (14.4 ounce) box honey or chocolate graham crackers
1/4 cup dark chocolate chips
1/2 cup sliced strawberries to garnish (optional)
Fresh mint as garnish (optional)
Directions:
In the baking dish, cover the bottom with a thin layer of whipped topping. Begin placing the graham crackers over the bottom of the dish until it's covered. Begin layering the graham crackers and whipped topping until you have 3 layers.
Frost the entire outside of the cake with additional whipped topping and cover with plastic wrap. Chill in the refrigerator for several hours to allow the graham crackers to soften.
Before serving, melt the dark chocolate chips in the microwave stirring occasionally to ensure they are completely melted. With a spoon, drizzle the chocolate over the top of the cake. Garnish with strawberries and mint leaves. Slice and serve.
More no-bake dessert ideas
No-bake peanut butter pie
No-bake desserts for summer
No-bake chocolate chip cookie dough bites