Easy Mexican pancakes recipe
Your family doesn't have to wait until happy hour to start celebrating Cinco De Mayo. Kick off the festivities first thing in the morning by whipping up some savory Mexican pancakes!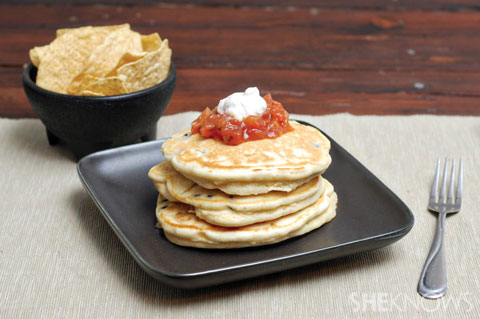 Easy Mexican pancakes recipe
Makes 16 pancakes
Ingredients:
2 cups Bisquick pancake mix
1 cup milk
2 eggs
1/3 cup cooked black beans
1/3 cup corn kernels
2 tablespoons plus 1/4 cup salsa
Sour cream
Directions:
Combine Bisquick, milk and eggs in a medium bowl.
Add in black beans, corn kernels and 2 tablespoons salsa and stir until the ingredients are well combined.
Pour 1/4 cup batter mixture per pancake onto a hot griddle.
Cook on the first side until the edges of the pancake are dry, and then flip the pancake and cook the second side until it is lightly golden.
Top the pancakes with remaining salsa and a dollop of sour cream.
More Cinco De Mayo recipes
Cinco de Mayo pinata cookies
Cinco de Mayo brunch recipes
3 Salsa recipes for Cinco de Mayo