Kid-friendly Mother's Day brunch menu
Instead of doing all of the cooking yourself, why not enlist the help of your kids this Mother's Day? This kid-friendly brunch menu is filled with kid favorites, like fresh fruit and bacon, as well as mom favorites too, like stuffed French toast.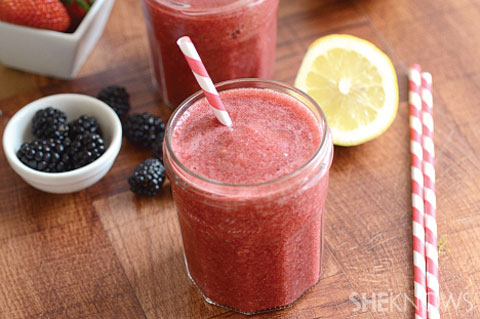 Your kids will love this menu as much as you do! Serve with a much-deserved Champagne cooler and enjoy a fantastic Mother's Day with the ones you love, eating your favorite foods.
Blackberry & strawberry slushies
Serves about 4
Ingredients:
1/2 pound fresh strawberries
1/2 pound fresh blackberries
1/4 cup lemon juice
1/2 cup diet cranberry juice
Strawberries and blackberries for garnish
About 2-3 cups ice
Directions:
Place the ice, strawberries, blackberries, lemon juice and cranberry juice together in a blender. Pulse on low until mixture is smoothly pureed.
Serve in Mason jars and garnish with fresh berries.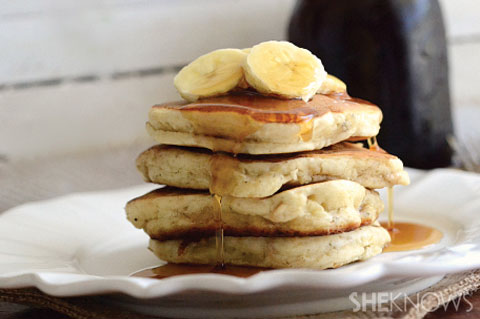 Banana bread pancakes
Yields 6 pancakes
Ingredients:
1 cup all-purpose flour
1 teaspoon baking powder
Dash of salt
2-1/2 tablespoons brown sugar
1/2 teaspoon pumpkin pie spice
1/3 cup 2 percent milk
1-1/2 large bananas, smashed
1 teaspoon vanilla
1 tablespoon butter, melted
2 tablespoons chopped walnuts
Directions:
Whisk the flour, baking powder and salt together. Add sugar, pumpkin pie spice, milk, smashed bananas, vanilla, melted butter and walnuts. Stir to combine with a wooden spoon.
Heat a skillet over medium heat. Add nonstick cooking spray. Scoop out about 3 tablespoons of batter onto the skillet. Heat until the tops of the pancakes bubble slightly and then flip. Cook another 2 minutes or until golden brown.
Top with whipped cream and maple syrup.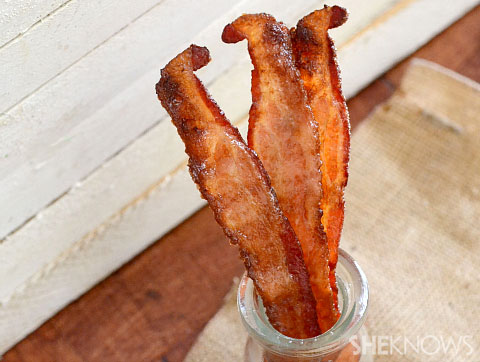 Perfect candied bacon
Serves about 4
Ingredients:
8 slices bacon
1/4 cup brown sugar
Baking sheets
Dash of salt and pepper
Directions:
Preheat oven to 325 degrees F. Cover a baking sheet with parchment paper. Top with a wire cooling rack.
Toss the bacon with the brown sugar and salt and pepper. Place the bacon on the wire cooling rack and sprinkle with a bit of additional brown sugar.
Bake for about 10 minutes on each side. Serve immediately.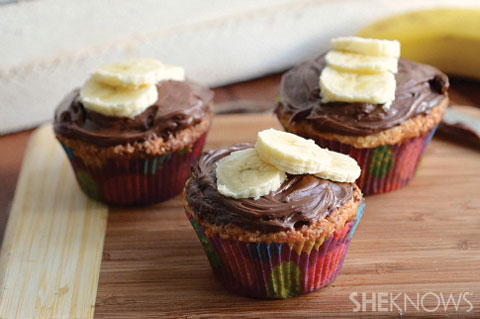 Banana & chocolate cupcakes
Yields about 16 muffins
Ingredients:
2 cups flour
1 teaspoon baking powder
3/4 teaspoon baking soda
Dash of salt
1/4 cup sour cream
1 cup mashed bananas
2 eggs
1-1/2 cups sugar
4 tablespoons butter, softened
4 tablespoons unsweetened applesauce
1 teaspoon vanilla extract
Chocolate icing (we love this recipe)
Directions:
In a large bowl, mix the butter, applesauce and sugar together. Add the eggs, sour cream and vanilla, and beat until creamy. In another bowl, whisk the flour, baking powder, baking soda and salt. Gradually beat the flour mixture into the butter mixture. Stir in the bananas.
Line a muffin tin with paper liners and preheat oven to 350 degrees F. Fill each muffin cavity about 3/4 of the way full.
Bake for about 15 to 20 minutes, or until a toothpick inserted comes out clean. Let cool on a wire cooling rack. Then once cool, frost and enjoy!
More delicious brunch recipes
3 Perfect brunch sandwich recipes
Garden party Easter brunch recipes
Bacon and corn pancakes