How to host a mother-daughter tea for Mother's Day
Make it a whimsical, fun brunch/tea!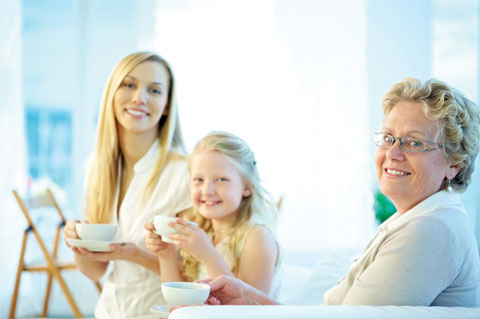 With a little planning, go all out and use your best (or the fun) china and these kid-friendly recipes for Mom and Daughter to enjoy a Mother's Day brunch/tea! Don't save the "good" china for special occasions. What more special occasion is there other than making precious, life-long memories with your daughter? There are days when we worry about "messing up" the good stuff, but if we do not use it, what good is that "good" china? Plus, little girls love to daydream and imagine fancy settings. Turn your own kitchen or dining room into a special, imaginary palace or four-star resort for a grown-up tea.
Take advantage of the warm weather and head outside for a Mother's Day picnic >>
You and your daughter will remember this mother-daughter tea for years and years to come. The guest list can be for two — just you and your daughter, or it can be for your friends and their daughters, and your daughter's friends and their mothers! You will need to send an invitation out, and even if it is just for your daughter, make something fun for her. This adorable mini teapot cake is the perfect tea party dessert.
Make it really special by asking her to tell you what her favorite recipes are that you make, and make them together. If your daughter is really young, you can still have a "fancy" tea. Dress up in your best dresses or favorite outfits and go all out! Talk about where she would like to travel and what she wants to be when she grows up. Share with her your dreams from when you were her age, and how you believe that she can do and be anything she wants to be. It is very true that little girls emulate what they see their mothers doing, so set an example that the sky is the limit!
Create a menu and print it out with fun fonts and colorful lettering. Tape or glue this to a piece of colored construction paper and you and your daughter can have this precious keepsake as a reminder of this special day. If your daughter does not like hot tea, heat some apple juice or lemonade and pour it into a special tea cup. Nibble on fruits and pastries, or make homemade goodies that are favorites for both of you and just make time to enjoy them with each other. Before you know it, your daughter will be heading off to college, so these precious moments should be savored.
Make a fun playlist with your daughter and have some fun tunes that you both enjoy. Maybe you can introduce your daughter to some of your favorites, as well as learning what some of her favorites are. Even if that means Justin Bieber or One Direction. Just remember, our daughters are only little once, so we had better make the most of the time we have with them! When they become mommies, we want their memories to be sweet ones. Oh, and by the way, Happy Mother's Day! Give yourself a pat on the back.
More Mother's Day ideas
Easy Mother's Day brunch menu
Mother's Day craft guide
DIY Mother's Day gift baskets