Sweet potato pancakes with cinnamon honey butter
These sweet potato pancakes are a healthy treat for breakfast.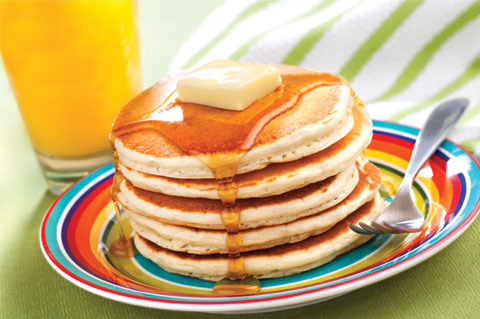 Sweet potato pancakes topped with cinnamon honey butter. You might even think you are eating dessert for breakfast because these are just that great!
Sweet potato pancakes with cinnamon honey butter
Makes 10 pancakes
Ingredients:
1-1/2 cups all-purpose flour
3 teaspoons baking powder
Tiny pinch of salt
1 (heaping) tablespoon sugar
1 to 1-1/4 cups milk
3 tablespoons butter, melted
1 teaspoon vanilla (or any flavoring that you would like)
1 egg, beaten
1 cup mashed sweet potatoes
Directions:
In a large bowl, mix dry ingredients with a fork, and stir well to combine.
In a separate bowl, add milk, butter, vanilla and egg, and then make an indentation with your finger in the bowl with dry ingredients. (Like you are digging a hole).
Add wet ingredients, mix until combined, and then stop. You do not want to over mix.
Lightly grease and heat your pancake griddle. Using a ladle or a small measuring cup, add your batter to the griddle, and cook. (You will see bubbles on the edges and that tells you it is time to flip!) 
Cook on both sides until lightly browned.
Cinnamon honey butter
Makes 1/2 cup
Ingredients:
1 stick butter, softened at room temperature
1/3 cup honey
1/2 teaspoon cinnamon
Directions:
Mix butter, honey and cinnamon together in a small bowl. Serve with pancakes.
Save any leftover honey butter in the refrigerator, covered.
More pancake recipes
Banana pistachio pancakes
Blueberry lemon pancakes
Gluten-free pumpkin pancakes