Celebration sopapillas
Most people only have sopapillas when they catch dinner at a local Mexican joint. But they're easy to make at home and can be dressed up for a super-special treat on Cinco de Mayo or just on a random Wednesday.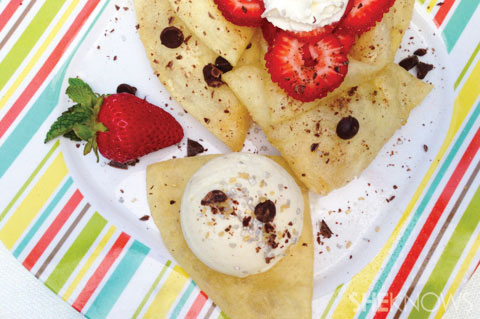 Featuring fresh sliced strawberries, rich vanilla ice cream, chocolate shavings, agave nectar, cinnamon, sugar and plenty of sprinkles, this delightful dessert is designed to be shared with your family and friends.
Celebration sopapillas recipe
Yields 6
Ingredients:
Sopapillas:
1 cup all-purpose flour
1/2 teaspoon baking powder
1/4 teaspoon kosher salt
1 tablespoon shortening
1/3 cup water
Oil for frying
Toppings:
2 fresh strawberries, sliced
1/4 teaspoon gold sprinkles
1/4 teaspoon silver sprinkles
1/4 teaspoon cinnamon
1/4 teaspoon sugar
2 ounces chocolate shavings (may substitute chips)
2 tablespoons agave nectar (may substitute honey or honey syrup)
2 scoops vanilla ice cream (approximately 10 ounces)
Whipped cream (canned or frozen)
Directions:
In a large mixing bowl, combine flour, baking powder, salt and shortening. Stir in water and mix thoroughly. Cover and let sit for 20 to 30 minutes.
On a floured surface, roll out the dough until it is approximately 1/8-inch thick. Cut the flattened dough into 3-inch squares (or press out shapes using a cookie cutter).
In a deep fryer or heavy-bottomed pan, heat the oil to 375 degrees F and fry the sopapillas for 2 minutes on each side or until golden brown (they'll puff up as they fry). Drain the excess oil on a plate lined with paper towels.
In a small dish or bowl, combine sugar and cinnamon and mix well. Arrange sopapillas in a bowl or on a plate and liberally sprinkle the sugar mixture over them. Place strawberry slices on top and spritz with whipped cream. Add 1 or 2 scoops of ice cream and drizzle agave nectar over entire plate. Top with chocolate shavings or chips and more sprinkles.
More kid-friendly desserts
Exploding white chocolate candy
Brownies: Fully loaded
Cinco de Mayo piñata cookies