Chocolate overload candy cake
Chocolate cake, chocolate buttercream and chocolate candy bars "curled" on top.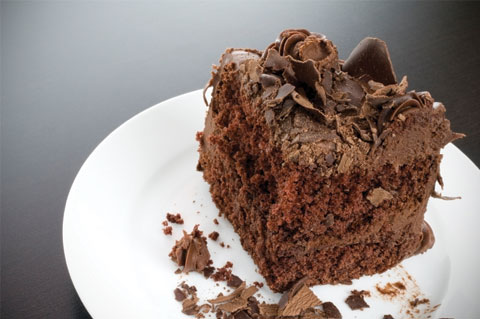 Rich chocolate cake topped with a delicious, mouth-watering chocolate buttercream, and then topped with chocolate bar curls, and other chopped candy bars piled in the center... a chocolate lover's dream. Use a devil's food cake mix for the cake, but replace the water with milk and use one extra egg. Bake in two 9-inch pans. Then, top it with the chocolate buttercream, chocolate candy bars, chopped and piled in the center and chocolate bars that have been "curled" by using a vegetable peeler.
Chocolate overload candy cake
Serves 10-12
Chocolate buttercream:
Ingredients:
2 sticks butter, softened
3-1/2 cups powdered sugar
1/2 cup unsweetened cocoa
4 to 6 tablespoons heavy cream
1 teaspoon vanilla
Directions:
Sift powdered sugar and cocoa and set aside.
Beat butter and slowly add sugar and cocoa, and then heavy cream and vanilla.
You could also add Irish Liquor. Add 3 tablespoons and 1 to 3 tablespoons heavy cream (depending on consistency for spreading).
Spread on first layer of cake, and then top the bottom layer with the top layer.
Spread frosting over top and sides of cake. Add chocolate candy to the center and chocolate curls all over the cake.
More chocolate recipes
Chocolate and cola cake
Double chocolate trifles
Chocolate stuffed raspberries