Arroz con leche
Enjoy this recipe for easy Hispanic rice pudding.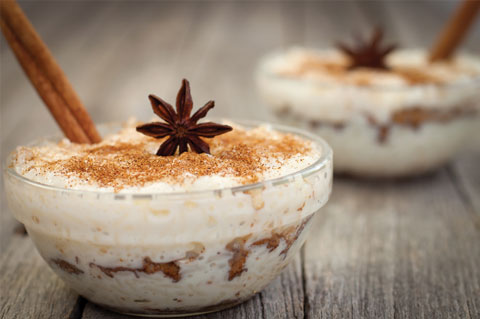 This delicious rice pudding is so simple, and it only gets better each day... if it lasts that long.
Arroz con leche
Serves 4
Ingredients:
4 cups whole milk
1/2 cup short grain rice
1 cinnamon stick or 1 teaspoon cinnamon
2 long peels from an orange
1/2 cup sugar
1 tablespoon butter
1 teaspoon vanilla
1/2 cup raisins that have been soaked in 1/4 cup rum (optional)
Directions:
Combine the milk, rice, cinnamon, orange and salt in a medium saucepan, and bring to a boil.
Turn the heat down to the lowest setting, and let it simmer for about 40 minutes, stirring often.
At this point, add the sugar, and if using raisins, add them now.
Stir and let this simmer for another 10 to 15 minutes, stirring often so your rice does not stick.
Remove your saucepan from the heat and add the butter and vanilla.
Taste and see if you need more cinnamon and sugar, and then you can serve hot or refrigerate and serve cold.
More rice puddings to try
Mexican rice pudding
Almond milk rice pudding
Slow cooker rice pudding