Fruit and yogurt in granola bowls
Make Mom feel special on Mother's Day with this lovely idea. Homemade granola is transformed into a granola bowl and filled with Greek yogurt and fresh fruit. Not only are these easy to prepare, but they are a healthy way to start the day.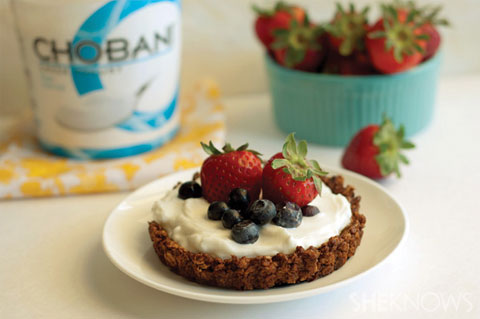 Aren't these fruit and yogurt granola bowls lovely? These are so simple and easy to create and what's even better is that you can customize the flavors to anything you desire. Here, we used plain Greek yogurt and topped it with fruit, but you can easily substitute a fruit flavored Greek yogurt in place of the plain.
Fruit and yogurt in granola bowls recipe
Yields 8 servings
Ingredients:
For the granola bowls:
4 tart tins (or muffin pan)
Cooking spray
2 cups gluten-free rolled oats (or regular rolled oats)
1/4 cup pecans, finely chopped
1 tablespoon ground cinnamon
1/2 teaspoon ground cloves
1/2 teaspoon ground ginger
Pinch of salt
1/2 cup organic honey
2 tablespoons organic coconut oil (you can substitute canola or vegetable oil)
1 teaspoon vanilla
For the yogurt filling:
2 cups plain 0 percent Greek yogurt (we used Chobani brand Greek yogurt)
2 tablespoons pure maple syrup
Fresh fruit of choice such as strawberries, blueberries, peaches, bananas or mango
Directions:
Preheat the oven to 375 degrees F. Lightly spray the tart tins (or muffin pan) with cooking spray and set aside.
In a large bowl, combine the rolled oats, pecans, spices and salt. In a separate bowl, combine the honey, coconut oil and vanilla, mixing well. Add the honey mixture to the dry ingredients mixing well and making sure everything is well combined.
Begin adding spoonfuls of the granola into the tart tins (or muffin pan) and gently press the granola down firmly and up the sides of the pan to form a bowl. Bake the granola bowls for 25-30 minutes until they are golden brown and have become firm. Remove from oven and allow to cool.
When ready to serve, spoon the Greek yogurt into each granola bowl, top with fresh fruit and drizzle with pure maple syrup. Serve immediately.
More Mother's Day recipe ideas
Healthy Mother's Day recipes
Mother's Day grilling menu
Unique and delicious Mother's Day brunch recipes