Roasted sriracha edamame
Need a snack for movie night? Roasted sriracha edamame to the rescue! Garlicky, spicy, salty and roasted — this snack has it all!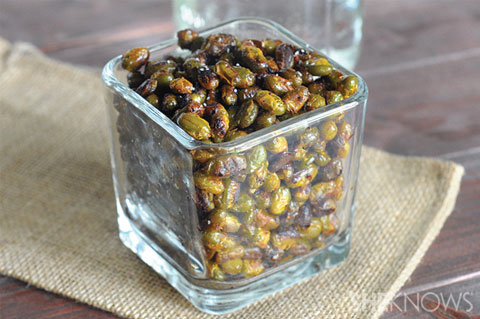 Roasted sriracha edamame
Makes about 2 cups
Ingredients:
1 (14 ounce) bag frozen shelled edamame, thawed
2 tablespoons sriracha
1 tablespoon olive oil
1 teaspoon garlic powder
1 teaspoon salt
Directions:
Preheat oven to 400 degrees F.
Spray a large baking sheet with nonstick spray. Set aside.
Spread the edamame over paper towels in 1 layer and gently pat dry.
In a large bowl, whisk together the sriracha, olive oil, garlic and salt.
Pour the dried edamame into the sriracha mixture. Toss to coat
Spread the edamame in a single layer on the prepared baking sheet.
Roast for 30-45 minutes, stirring every 5-7 minutes, until brown and crisp.
Allow to cool completely before serving and before storing.
It is best to eat these the day of making them, but they can be stored in an airtight container for up to a week.
More fantastic edamame recipes
Edamame succotash
Green hummus edamame
Edamame and pea pasta with goat cheese and herbs