Banana pecan overnight oatmeal
Banana pecan overnight oatmeal brings flavor and ease back to breakfast. Served cold or warm, this filling and delicious bowl of goodness is a great way to start any day!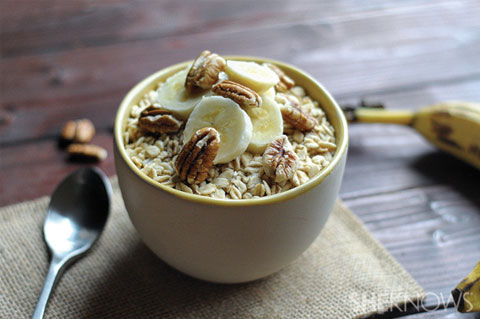 Banana pecan overnight oatmeal
Serves 2
Ingredients:
1 cup old fashioned rolled oatmeal
1/2 cup vanilla low-fat yogurt
1/2 cup milk of choice
1 teaspoon vanilla extract
1/2 teaspoon ground cinnamon
1 whole banana, chopped
1/4 cup chopped toasted pecans
Directions:
Stir together the oatmeal, yogurt, milk, vanilla and cinnamon.
Set in the refrigerator overnight.
In the morning, serve cold with banana and chopped pecans.
To serve hot, add 2 tablespoons of milk and microwave on 50 percent power for 1-2 minutes until desired temperature is achieved.
More easy oatmeal breakfasts
Black forest baked oatmeal
Oatmeal brulee
Healthy blueberry oatmeal pancakes