Chilled avocado-cucumber soup
This better-for-you warm-weather soup uses avocado instead of heavy cream to get its creamy texture. Eat it on its own or with your favorite turkey sammie for lunch or a light dinner.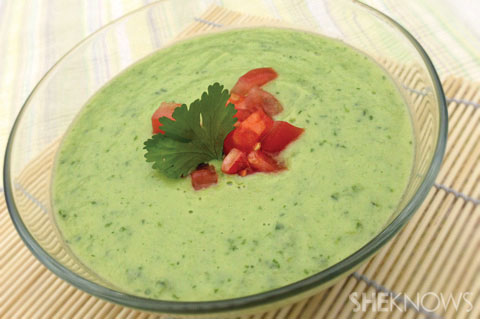 Part of the charm of winter is the comfort of a piping-hot bowl of soup. But spring and summer don't have to mean the end of the bowl. This chilled soup featuring all the green goodness of the warmer months is made right in the blender and takes only minutes to prepare.
Chilled avocado-cucumber soup recipe
Serves 2-4
Ingredients:
1 avocado, roughly chopped
1 cucumber, peeled, seeded and roughly chopped
1/2 cup water
1/2 fresh jalapeño, roughly chopped
2 cloves garlic
2 tablespoons Greek yogurt
1 green onion, roughly chopped
1 tablespoon fresh lime juice
1-1/2 tablespoons fresh lemon juice
1/4 cup cilantro, roughly chopped
2 teaspoons Kosher salt
1/4 teaspoon pepper
Tomato, diced (for garnish)
Directions:
Place all ingredients except tomatoes in a blender and puree until creamy and smooth. Pour soup into an airtight bowl and refrigerate for at least an hour. Garnish with diced tomatoes and a cilantro leaf.
More cold soup recipes
Tonight's Dinner: Cold potato soup recipe
Chilled carrot soup recipe
Cold pea soup