Tiny taco cups 3 ways
Instead of regular tacos for your Cinco de Mayo family feast, why not give your kids tiny bite-size taco cups instead? Made from tortilla chips and wonton wrappers, these savory and sweet cups will be instant hits with your family.
These bite-size cups are filled with kid-friendly favorites, like chicken, cheese and even strawberries and freshly whipped cream. Serve these at your backyard BBQ or as fun after-school snacks for a fun Cinco de Mayo meal!
Chicken enchilada taco cups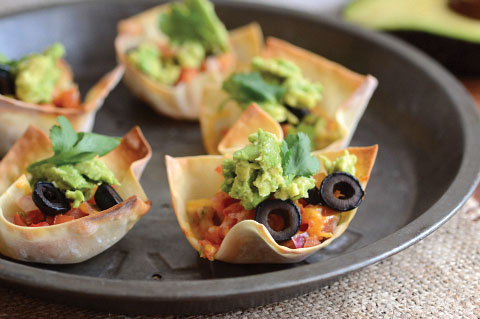 Yields about 12 taco cups
Ingredients:
12 wonton wrappers
2 tablespoons olive oil
About 1-1/4 cups shredded chicken
2 tablespoons taco seasoning
1/2 cup salsa
1 cup shredded Mexican cheese
1 avocado, smashed
Salt and pepper
Juice of 1 lime
About 1/2 cup sliced black olives
Cilantro
Directions: 
Carefully brush each wonton wrapper with a bit of oil. Preheat oven to 350 degrees F. Carefully fold the wonton wrappers into a greased muffin tin and bake for about 3 minutes.
Mix the chicken with the taco seasoning and lime. Place about 1 tablespoon of chicken into the bottoms of the wonton wrappers. Top with about 1 teaspoon salsa. Then add a teaspoon or so of Mexican cheese.
Bake for about 8 minutes, or until cheese is melted. Top each taco cup with a teaspoon or so of smashed guacamole and olives. Garnish with cilantro.
Buffalo chicken taco bites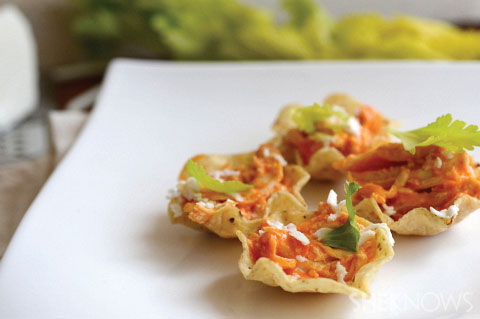 Serves about 12
Ingredients:
12 Tostitos Scoops chips
About 3/4 cup shredded chicken
1/4 cup Buffalo wing sauce
2 stalks celery, chopped
Celery leaves for garnish
1/3 cup shredded mozzarella cheese
Directions:
Mix the shredded chicken and celery with Buffalo wing sauce. Fill each scoop with about 1-1/2 to 2 teaspoons of chicken. Top with celery leaves. Garnish with about 1 teaspoon of shredded mozzarella.
Cinnamon sugar strawberry bites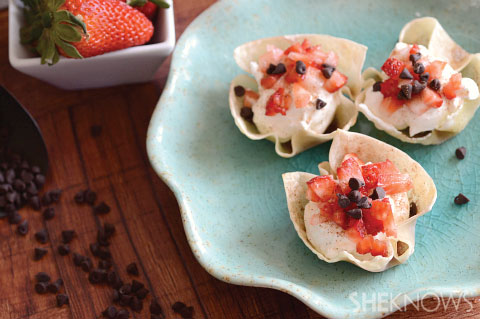 Serves 6
Ingredients:
6 wonton wrappers
About 6 teaspoons cinnamon sugar
About 3 teaspoons melted butter
6 tablespoons freshly whipped cream
6 teaspoons chopped strawberries
Mini chocolate chips for garnish
Directions: 
Preheat oven to 350 degrees F. Brush each wonton wrapper with melted butter and top with cinnamon sugar. Carefully fold into greased muffin tins and bake for about 8 minutes, or until golden brown. Let cool on a wire cooling rack or until completely cool.
Once cool, fill with whipped cream. Top each shell with strawberries and garnish with chocolate chips.
More bite-size recipes
Bite-size comfort foods
Party size snack recipes
Bite-size pie bites