Homemade fried ice cream
Think the only place you can get fried ice cream is a tacky, mediocre Mexican restaurant? Think again! Instead of paying for your favorite indulgent treat, why not make it at home with your kids with this fun recipe?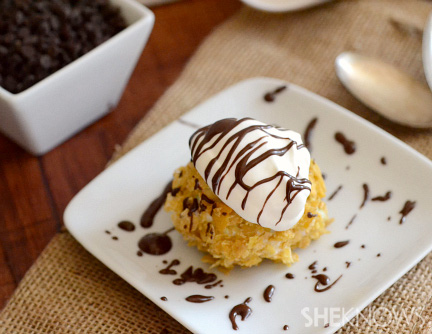 To keep your ice cream from melting into a mess in your frying pan, make sure you freeze it for at least two hours prior to frying it. To get that perfect crunch, roll your ice cream in corn flakes and top with cinnamon.
Homemade fried ice cream
Serves about 8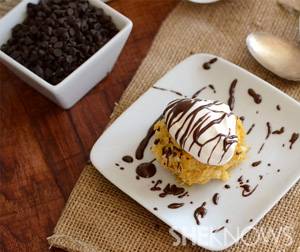 Ingredients:
1 quart vanilla ice cream
3 egg whites
3 cups corn flakes
1 tablespoon cinnamon
1 quart oil for frying
Chocolate sauce for garnish
Directions:
Scoop ice cream into 8 balls about 1/2 cup each. Place on parchment-lined baking sheets and freeze for at least 2 hours.
Mix the corn flakes and cinnamon together in a shallow bowl. Whisk the egg whites in another bowl. Once ice cream has frozen, roll into the egg whites and then douse in corn flakes. Drop the balls, 1 by 1, into a pan filled with the oil. Make sure the oil is about 375 degrees F total before frying.
Fry for about 10 to 15 seconds, or until edges are golden brown. Serve immediately.
More Mexican-inspired recipes