Mini chicken pesto calzones
Forget pizza night and give your weekday menu a fun twist by serving up these mini bite-size chicken and pesto calzones. This not only makes a great dinner option, but it's perfect for after-school snacks too!
Pesto isn't normally a kid favorite, primarily because of its appearance. So trick your kids into eating this creamy green sauce by hiding it inside warm pizza dough with fresh mozzarella and chicken! Add a side dipping sauce such as warm cheese sauce or even a homemade garlic dipping sauce.
Mini pesto chicken calzones
Yields about 6 calzones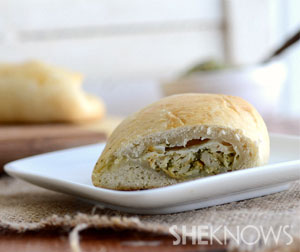 Ingredients:
1 container chilled pizza dough
1 cup shredded chicken
1/3 cup pesto (use this recipe)
About 4 ounces fresh mozzarella
Directions:
Preheat oven to 350 degrees F. Roll out the chilled pizza dough and cut into 6 even size rectangles.
Mix the shredded chicken and pesto together.
Place about 1-2 tablespoons of chicken pesto into the middle of each rectangle. Divide mozzarella over the top of the chicken.
Cut slits into each pizza dough. Then bake for about 20 minutes, or until golden brown.
More calzone recipes
Sunday Dinner: Make your own calzones
Easy Mexican calzones recipe
Smoky paprika pork stuffed calzones