Snickers s'mores
Snickers S'mores are exactly what they sound like: delicious, gooey s'mores sandwiched with Snickers bars and a little surprise instead of the usual chocolate. Get ready for even more fun around the campfire!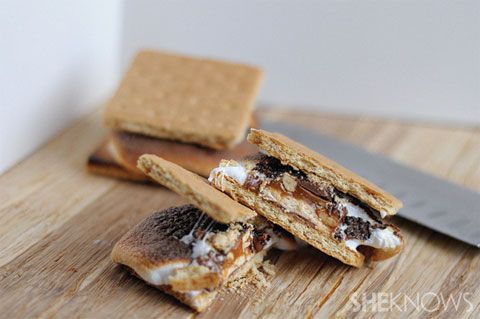 Snickers s'mores
Makes 4 s'mores
Ingredients:
4 large graham crackers, halved
8 large marshmallows
2 king size Snickers bars
Directions:
Preheat broiler.
Line a baking sheet with foil.
Place 4 graham cracker halves on the foil.
Top each graham cracker with a Snickers half.
Top each Snickers half with 2 marshmallows.
Place the baking pan under the broiler. It will only take a minute for the marshmallows to brown.
Remove and carefully push 1 of the remaining graham cracker halves on top of the marshmallows.
Allow to sit for about 3 minutes to help melt the chocolate and to allow the marshmallows to cool.
More over-the-top s'mores recipes
S'mores sandwich bar cookies
White chocolate macadamia s'mores
S'mores pie