Quick baked churros with chocolate dipping sauce
Churros are fried log-shaped donuts that are found in many Mexican restaurants. Although we love the fried originals, we decided to bake ours out of biscuit dough and serve alongside some decadent chocolate dipping sauce.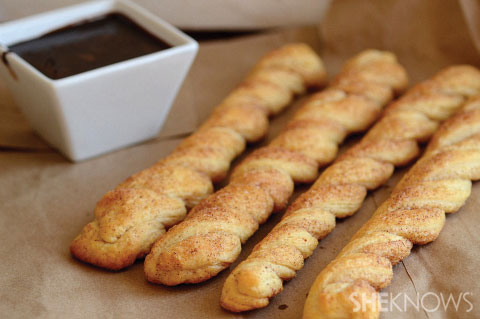 These easy churros require no fancy fryers or a quart of oil. In fact, all you need is a container of refrigerated biscuit dough. The rich chocolate dipping sauce is the perfect complement to the crispy oven baked sugar and spice donuts. You'll want to double or triple this recipe — these are that good.
Quick baked churros with chocolate dipping sauce
Recipe adapted from Pillsbury
Yields 12 churros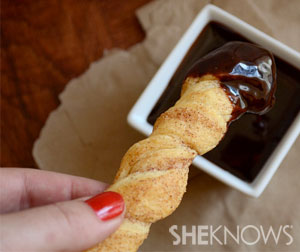 Ingredients:
For the churros: 
2 (8 ounce) cans refrigerated crescent roll dough
2/3 cup cinnamon sugar
4 tablespoons melted butter
For the dipping sauce: 
5 ounces dark chocolate
1 ounce milk chocolate
1 tablespoon honey or corn syrup
2/3 cup heavy cream
Directions: 
To make the churros, roll the crescent dough out into 2 rectangles. Using your fingers, push the dough that is spaced for the crescents together on each rectangle. Then spread melted butter over the top half of 2 rectangles and cover with 2 tablespoons cinnamon sugar each. Then carefully press the remaining 2 rectangles over each cinnamon sugar rectangle, pressing down the top and bottom to stick the dough pieces together.
Cut the 2 larger rectangles into 3 slices using a pizza cutter. Then cut each slice in 2. Carefully wrap the 2 pieces (from the same slice) around each other in a twist pattern. Repeat until you have about 12 swirled wraps.
Using a pastry brush, brush melted butter over each churro. Top with about 1/2 to 1 teaspoon of cinnamon sugar. Preheat oven to 350 degrees F. Line a baking sheet with parchment paper and place churros on it. Bake for about 9 to 10 minutes, or until golden brown.
To make the dipping sauce, melt the chocolates and honey in a saucepan over medium heat until melted. Slowly whisk in the heavy cream, or until a thick sauce forms. Serve sauce alongside churros.
More Mexican recipes
Traditional Mexican Christmas recipes
Family-style Mexican recipes
Cilantro lime rice burrito bowls recipe