Dinner Shortcuts: Cheesy ranch chicken pasta
We all love ranch dressing and now it's been mixed with shredded chicken and freshly cooked pasta. You will love this dish!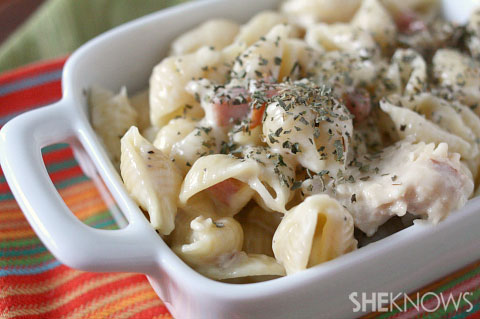 Pasta is the perfect weeknight quick fix. Especially when you take advantage of using a rotisserie chicken to add a little extra protein. This tasty dish is packed full of flavor and gives a crowd-pleasing flavor of ranch dressing. There is so much going on in this simple pasta you will be blown away by the flavor.
Cheesy ranch chicken pasta
Adapted from Half Hour Meals
Yields 4 servings
Ingredients:
1 pound mini-shells pasta
1 tablespoon olive oil
1 smoked beef sausage, small dice
1 rotisserie chicken, skin removed and meat picked off the bone
2 tablespoons flour
1 packet dry ranch dressing
2 cups whole milk
1 cup shredded sharp white cheddar cheese
1 teaspoon Italian blend seasoning mix
Salt and pepper, to taste
Directions:
Bring a large pot of water to a boil over high heat. Add in pasta and cook until al dente, following box directions.
In a large skillet add olive oil and heat over medium heat.
Add in diced beef sausage and quickly saute until lightly browned.
Add in chicken and sprinkle with flour and ranch dressing.
Slowly stir in milk until the mixture begins to thicken.
Once the sauce is slightly thick, add in cheese, seasoning and pasta. Stir until melted.
Taste and season with salt and pepper if desired.
More Dinner Shortcuts recipes
Greek meatball sliders recipe
Italian sub crescent roll-ups recipe
Chicken and rice casserole recipe