Dinner Shortcuts: Quick mini vegetable pesto frittatas
Want a hot breakfast but need to get out the door quickly? These little frittatas use frozen mixed vegetables mixed with eggs and are baked in mini muffin cups.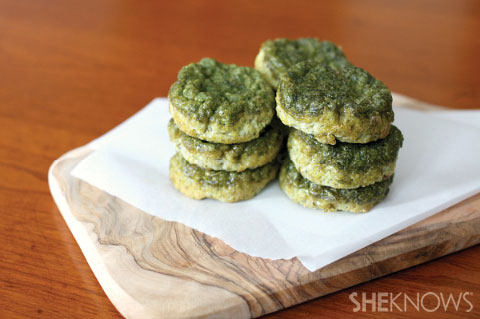 This quick dish is perfect for breakfast, brunch and even dinner. It can be ready in under 30 minutes and is packed full of vegetables and herb flavor. Don't let that green color fool you — it still tastes like eggs. Plus the kids will love the fun color of everyday eggs. Why not serve it with ham and take a play out of the book Green Eggs and Ham.
Quick mini vegetable pesto frittatas
Yields 24 mini frittatas
Ingredients:
6 eggs
1/3 cup pureed vegetable pesto
2 tablespoons heavy cream
Salt and pepper, to taste
Nonstick spray
Directions:
Preheat oven to 400 degrees F.
In a bowl, whisk eggs, pureed vegetables, heavy cream, salt and pepper together.
Spray a 12-count cupcake tray with nonstick spray. Fill 1 to 2 inches high and bake for about 15 minutes until they have puffed up and are fully cooked.
Let sit for 1 minute in the tray and remove.
Notes: To make a quick vegetable pesto, add 1/2 cup desired vegetables, 1/4 cup vegetable leaves and 2 tablespoons Parmesan cheese to a blender. Pulse until smooth and thin out with a little olive oil if needed. Simple and easy!
More egg recipes
Kale frittata recipe
Breakfast stuffed baguette recipe
Baked eggs with sweet potato and gorgonzola recipe