Dinner shortcuts: Potato bacon casserole
Want a quick breakfast dish? This recipe uses store-bought hash browns, bacon and cheese. In no time, your family will go from starving to satisfied.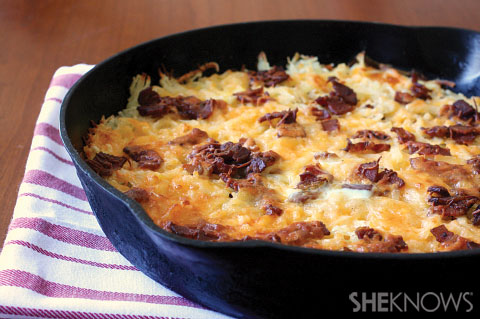 Breakfast shouldn't be bland. Don't just settle for the same old boring toast and eggs. This breakfast skillet is simple to throw together and will please even your pickiest eaters. Plus, who doesn't love super crispy bacon?
Potato bacon casserole
Yields the contents of a 10-inch skillet
Ingredients:
4 cups frozen hash browns
1/2 cup frozen chopped onions
1 pound fried bacon, crumbled
2 cups sharp cheddar cheese, divided
Salt and pepper, to taste
12 ounces half and half
1 large egg
Directions:
Preheat oven to 350 degrees F.
In a 10-inch oven-safe skillet, add half of the frozen hash browns, half the frozen onions, half the bacon, half the cheese and sprinkle with a little salt and pepper. Top with remaining hash browns, onions, bacon and cheese.
In a measuring cup, whip together half and half and egg. Pour over hash brown mixture.
Cover with foil and bake for 60 minutes. Remove foil and cook until browned on the top, about 15 minutes.
More breakfast recipes
Kale frittata recipe
Caramel apple pancake recipe
Maple bacon breakfast sandwich recipe