Dinner Shortcuts: Sloppy Joe squares
Who says you have to eat your sloppy Joe in sandwich form? This casserole bake gives you all the flavor in one simple dish.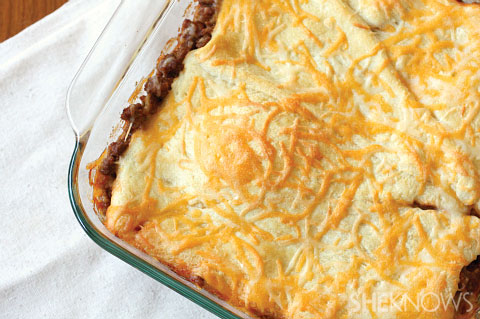 This simple casserole bake is a breeze to put together and can even be made the night before! Buttery crescent rolls, tangy sloppy Joes and lots of cheese all baked into one delicious dish. You will not be disappointed by this dish!
Sloppy Joe squares
Yields an 8 x 8-inch dish of squares
Ingredients:
1-1/2 pounds ground beef
1 can sloppy Joe mix
1 (8 count) can refrigerated crescent rolls
1 cup shredded cheese
Directions:
Preheat oven to 350 degrees F.
Brown meat and drain off fat. Add in sloppy Joe mix and cook until warmed.
In an 8 x 8-inch dish, press out 4 of the crescent rolls to create a bottom crust. Add meat mixture on top.
Sprinkle with 3/4 cup of cheese and top with 4 more pressed together crescent rolls. Sprinkle with remaining cheese.
Bake for about 35 minutes until crescent top is cooked and browned.
More Sloppy Joe recipes
Sloppy Cuban sandwich recipe
Sloppy Joe grilled cheese recipe
Philly cheesesteak sloppy Joe recipe