Dinner shortcuts: Corn dog muffins
Corn dogs are great, but they can take a lot of work to make. These little muffins give you all the flavor without all the work.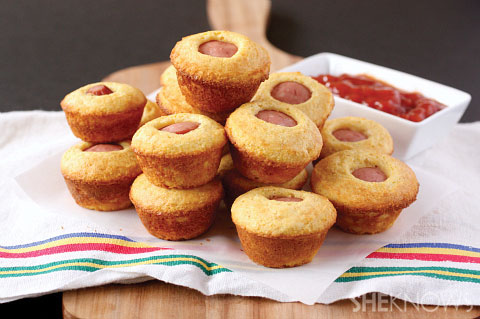 Corn dogs are always kid friendly, but they can take a lot of work to make from scratch. Plus no one likes to use the deep fryer. It's messy, smells and is not safe for little helpers. These muffins are baked, taste just like corn dogs and are simple enough for even the littlest of helpers.
Corn dog muffins
Yield 24 mini muffins
Ingredients:
1 (8 ounce) box cornbread mix
1 large egg, beaten
1/3 cup milk
6 hot dogs, cut into 3-inch pieces
Directions:
Preheat oven to 375 degrees F and spray a 24 count mini muffin tin with nonstick spray, set aside.
In a large bowl, add cornbread mix, egg and milk. Stir until combined.
Add about 2 teaspoons of batter into each muffin cup. Push the hot dog (cut side down) into the middle of each batter filled cup.
Bake for about 10 minutes until the cornbread is fully cooked and browned on the edges.
Serve plain or with ketchup for dipping.
More hot dog recipes
Sunday Dinner: Ballpark chili dogs
Mexican hot dogs recipe
Smoky hot dogs and rice recipe