Dinner Shortcuts: Chili dog casserole
We all love chili corn dogs so we have taken that flavor to the next level. All the flavor of the classic stadium treat but in one tasty casserole.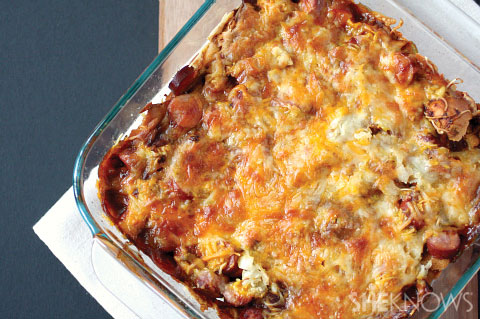 This casserole is packed full of flavor and is sure to impress kids! It packs all the flavor of a chili cheese dog but into one easy casserole. You can even prepare the dish the night before so when you get home the next day, it can easily be thrown into the oven. It's simple, flavorful and sure to bring a smile to the table.
Chili dog casserole
Yield 9 x 13-inch casserole
Ingredients:
8 hot dog buns
10 hot dogs, cut into bite-size pieces
2 (15 ounce) cans bean-free chili
2 tablespoons yellow mustard
1/4 cup chopped onion
2 cups shredded cheese
Directions: 
Preheat oven to 350 degrees F and spray a 9 x 13-inch glass casserole dish with nonstick spray.
Tear hot dog buns into the bottom of the dish. Cover with chopped hot dogs.
Spread chili on top of the bun/hot dog mixture. Either spread or eyeball the 2 tablespoons of yellow mustard on top of the chili.
Sprinkle with onions and cheese and bake for about 30 minutes until the cheese is melted and golden brown.
Note: Save time by buying a bag of frozen chopped onions. You can keep them in the freezer and use them as needed!
More casserole recipes
5 Delicious casserole recipes
Barbecue chicken casserole recipe
Cheeseburger macaroni casserole recipe