Cauliflower steaks
Cauliflower steaks are the vegetarian's answer to hearty steak. Thick-cut and marinated and then roasted to perfection, these cauliflower steaks are sure to please!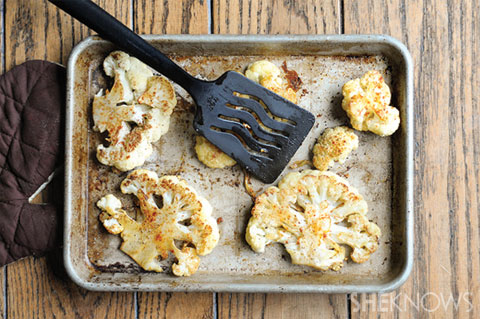 Roasted cauliflower steaks
Serves 4
Ingredients:
2 large heads fresh cauliflower, destemmed
2 tablespoons lemon juice
4 tablespoons olive oil
1 teaspoon Dijon mustard
1 teaspoon garlic powder
1 teaspoon paprika
1 teaspoon salt
1/2 teaspoon black pepper
Nonstick spray
Directions:
In a large bowl, whisk together the lemon juice, olive oil, mustard, garlic powder, paprika, salt and black pepper.
Cut the cauliflower into steaks about 3/4-inch in thickness. Place the cauliflower in a baking dish.
Pour the marinade over the cauliflower. Let it sit for about 30 minutes.
Preheat oven to 400 degrees F.
Spray a large baking sheet with nonstick spray.
Remove the cauliflower from the marinade and place on the baking sheet.
Roast for 15 minutes on each side, 30 minutes total, turning at the halfway mark until caramelized and soft.
Serve hot.
More hearty cauliflower recipes
Buffalo chicken cauliflower pizza
Mashed roasted cauliflower and jalapeno
Creamy cauliflower gratin