3 Recipes for homemade French fries
Who doesn't love french fries, especially those crispy, crunchy, extra fatty ones you get at the drive thru? Since it's bathing suit season though, why not satisfy your craving for fries with one of these baked recipes instead?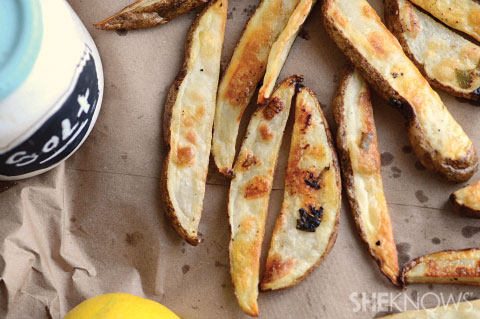 You'll be surprised at how easy these are to make, and the fact that each requires fewer than six ingredients. Pair one of these homemade fries with your favorite burger or chicken dish tonight for dinner and we promise you'll never crave Micky D's again.
Lemon & basil wedges
Serves about 6
Ingredients:
4 russet potatoes
2 tablespoons olive oil
2 tablespoons lemon juice
2 tablespoons chopped basil
Salt and pepper
Directions: 
Preheat oven to 425 degrees F. Line a baking sheet with foil and set aside.
Cut the potato in half and then into wedges. (You'll have about 32 wedges total).
Drizzle the olive oil and lemon juice over the wedges. Sprinkle with salt, pepper and chopped basil.
Bake for about 15 minutes. Then flip each wedge and then bake another 10-15 minutes or until golden brown and crispy.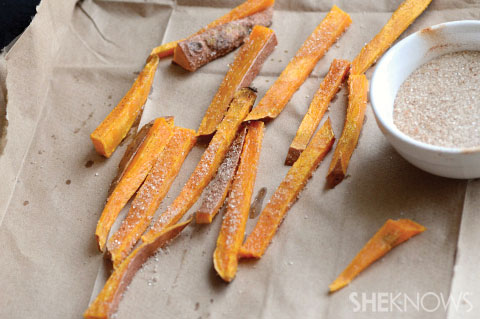 Cinnamon sugar sweet potato fries
Serves about 4
Ingredients:
1-1/2 pounds sweet potatoes
2 tablespoons sugar
1 tablespoon cinnamon
Salt
Quart of vegetable oil
Directions:
Heat oil in a large 3-quart pan over medium-high heat.
Wash the sweet potatoes and cut into thick slices. Place the potatoes in the oil and fry until crispy on all sides, or about 8 minutes.
Remove from the oil and place on a paper towel. Mix the sugar, cinnamon and a dash of salt together and sprinkle over the fries.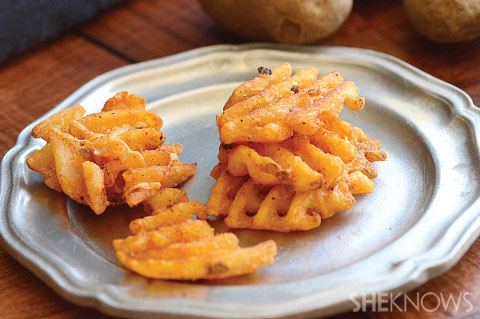 Crispy waffle fries
Serves about 6
Ingredients: 
4 large russet potatoes
1 quart oil for frying
Salt and pepper
About 2-3 tablespoons spicy Cajun seasoning
Directions: 
Heat oil in a large 3-quart pan over medium-high heat.
Meanwhile, add the waffle slicer to your mandolin (we used the OXO one). Hold the potatoes and cut into thick slices (we did ours about 1/2-inch thick).
Once oil is hot, add potatoes to the fryer and fry for about 5-7 minutes, or until golden brown on all sides. Place on a paper towel-lined plate. While warm, sprinkle fries with Cajun seasoning.
More homemade recipes
Tonight's Dinner: Homemade chicken nuggets
How to make homemade pasta
How to make homemade marshmallows