A new twist on pigs in a blanket
Sophisticated ham and cheese sandwiches, sweet rolls brushed with spices and then heated to perfection.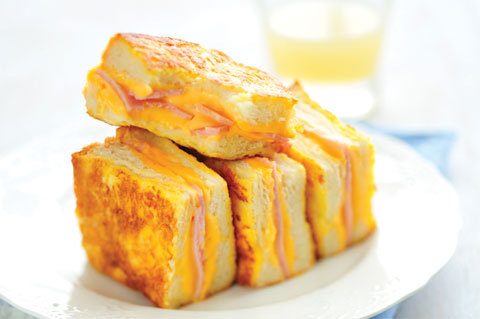 You can turn pigs in a blanket into a grown up treat! Take Hawaiian sweet rolls, place slices of ham and Swiss cheese inside. Brush melted butter on top, and then sprinkle with a savory seasoning mixture, bake to heat and melt cheese and infuse the seasonings into the bread.
Ham sandwiches
Serves 6
Ingredients:
1 package Hawaiian sweet rolls
1 pound of your favorite ham
1 pound of your favorite cheese (e.g. Swiss, Provolone, etc.)
2 tablespoons melted butter
1 tablespoon Italian seasoning
Directions:
Preheat your oven to 225 degrees F.
Open rolls, and then place ham and cheese inside.
In a small bowl, mix melted butter and Italian seasoning together. Brush on top of rolls.
Place rolls in a small dish or on a cookie sheet, and cover with foil.
Bake until the cheese has melted, about 10-15 minutes.
Keep warm in the oven until ready to serve.
More ham sandwiches to try
Hot ham sandwiches
Smoked gouda ham and cheese
Gluten free ham sandwiches