Banana yogurt parfaits
This might be one of the easiest treats you can put together! The best part is that it's truly a treat without being too sweet.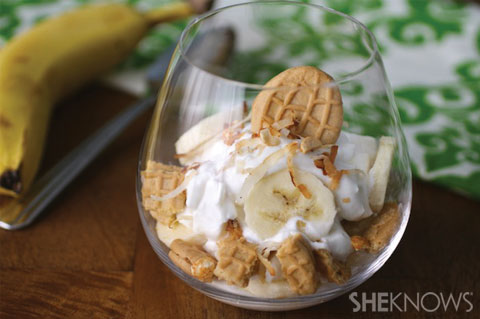 The yogurt is smooth and filling, and the banana provides a perfect portion of fruit. The cookie crumbles help to add a bit of fun and a little sweetness to this dish. If you'd like, shake things up by adding berries, a drizzle of caramel sauce or even mini chocolate chips to the mix!
Banana yogurt parfaits
Serves 2
Ingredients:
2 (6 ounce) containers low-fat banana yogurt
2 bananas, sliced into 1/2-inch rounds, divided
6 peanut butter-filled cookies, crushed, divided
1 peanut butter-filled cookie, cut in half for garnish
2 teaspoons toasted coconut for garnish, divided (optional)
Directions:
In a small glass bowl or dish, begin to layer the ingredients. Start by spreading about 2 teaspoons of the yogurt, followed by several banana slices and then about 1 teaspoon of the cookie crumbles. Repeat the layers until you've used all of the yogurt from 1 container, as well as 1 banana.
Repeat with a second glass or bowl and the remaining ingredients.
Top the parfaits with cookie crumbles, toasted coconut and half of the cookie per parfait.
Try this easy treat any day of the week!
More treats recipes
Easy caramel dipping sauce
Tropical fruit smoothie
Cherry cobbler