Smashed chickpea and sweet potato sliders
Unless you are a very lucky parent, there's probably not a good chance your kid craves chickpeas. Instead of watching them pick away at these popular legumes, why not disguise them as sliders, something you know they'll love?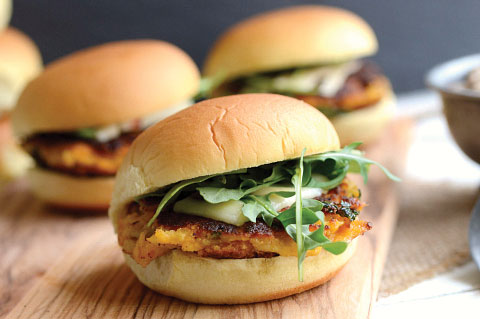 Topped with melted cheese, fresh greens and your family's favorite sauce, these chickpea sliders will instantly become a favorite with even your pickiest eaters. Serve alongside some homemade baked fries for a healthy meal only you'll know is good for them!
Smashed chickpea and sweet potato sliders
Recipe inspired by How Sweet Eats
Yields about 8 sliders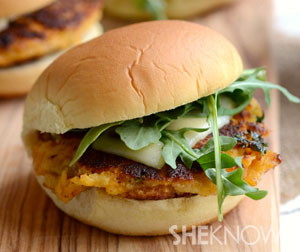 Ingredients:
1 carrot, chopped
1 (14.5 ounce) can chickpeas
1-1/4 cups smashed sweet potatoes (use this recipe)
1/2 cup shredded mozzarella cheese
1 tablespoon honey
1-1/2 tablespoons lemon juice
2 tablespoons all-purpose flour
2-1/2 tablespoons breadcrumbs
Dash of salt and pepper
2 tablespoons chopped fresh parsley
2 tablespoons butter
8 potato slider buns
Arugula
Cheese
Directions: 
Place the chopped carrot, chickpeas, mozzarella cheese, honey, flour, breadcrumbs, lemon juice and salt and pepper in a food processor. Pulse on low until mixture is thick and creamy (like a paste).
Mix the chickpea paste with the mashed sweet potatoes. Stir in parsley and salt and pepper. Add additional flour and breadcrumbs if mixture is super soft.
Heat butter in a medium skillet over medium heat. Form small slider patties with the chickpea mixture and place in the butter. Cook on medium heat until golden brown on both sides, about 5-6 minutes on each. (You want the patty to be firm and crispy but just a little soft in the middle).
Toast the slider buns. Place each burger on the buns and top with cheese, arugula and your favorite sauce.
More slider recipes
Slow cooker pot roast sliders
Avocado and crab cake sliders recipe
Juicy Lucy sliders with homemade buns