Tropical fruit smoothie
Wouldn't it be nice to get away to the tropics? This delightful smoothie can take you there!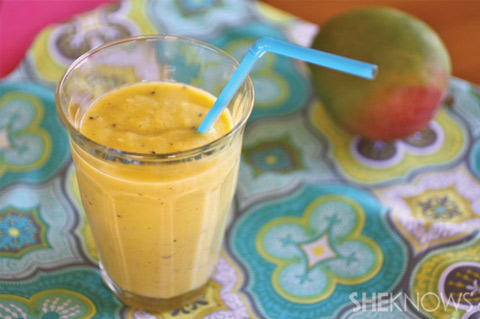 Simple to make and amazing to enjoy, this tropical fruit smoothie will make you feel like you're on an island in paradise! It only takes a few ingredients to blend up this tasty treat that's perfect for breakfast, as a snack or even as a healthy dessert. We used canned pineapple for this recipe, but use fresh when it's available. The combination of pineapple, kiwi and mango is fantastic!
Tropical fruit smoothie
Serves 2
Ingredients:
1 mango, peeled and diced
2 kiwi, peeled
4 ounces pineapple chunks
6 ounces low-fat vanilla yogurt
4-5 ice cubes
Directions:
Place all the ingredients in a blender and blend until you reach your desired consistency.
Add more ice cubes as needed, and continue to blend.
Grab this smoothie for a tropical snack!
More snack recipes
PB & J muffins
Cherry-almond smoothies
Healthy snacks for spring