Slow cooker Coq au Vin
Try a classic chicken dish for dinner! Not only is it easy to make, it's delicious!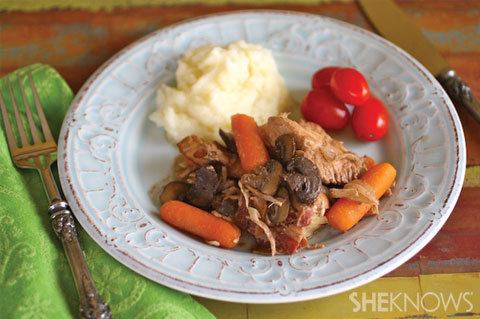 A traditional French dish, Coq au Vin (chicken with wine) is a simple, stew-like meal. Red wine brings out the flavor in the chicken, and carrots, onions, mushrooms and bacon add to the heartiness and taste.
Coq au Vin is an easy dish to make, but things get even easier by using a slow cooker to bring dinner together. You can set your slow cooker to a high temperature and cook this for 3-4 hours, or on low for 7-8 hours. Your family will love the flavors mixed in with this tender chicken dish.
Slow cooker Coq au Vin
Serves 4
Ingredients:
3 boneless, skinless chicken breasts, sliced in thirds
3 slices bacon, cooked until crispy
2 cups sliced cremini mushrooms
1-1/2 cups baby carrots
1 cup sliced onion
1-1/2 cups chicken broth
1/2 cup red wine
2 tablespoons tomato paste
1 tablespoon cornstarch
2 garlic cloves, chopped
2 tablespoons fresh thyme, chopped
1/4 teaspoon salt
1/4 teaspoon ground black pepper
Directions:
Cook the bacon until crispy, pat dry with a paper towel, and then crumble into pieces and set aside.
In the slow cooker, mix together the chicken broth, wine, cornstarch, tomato paste, garlic and thyme.
Season the chicken pieces with the salt and pepper and add it to the slow cooker. Then, add in the vegetables and bacon. Mix well.
Set your slow cooker either to high and cook for 3-4 hours, or on low and cook for 7-8 hours.
Use a meat thermometer to check the internal temperature of the chicken. It is safe to eat at 165 degrees F, as recommended by the U.S. Department of Health and Human Services.
Go classic with slow cooker Coq au Vin!
More main dish recipes
Matzo ball soup with chicken
Stuffed spinach and corn packets
Barbecue chicken pizza