Pineapple tomatillo salsa
As the weather begins to warm and outdoor gatherings become a looming possibility, make sure you're prepared with a delicious salsa to serve! Pineapple tomatillo salsa is fresh and simple, can be made in large batches, and goes perfectly with any drink you want to serve!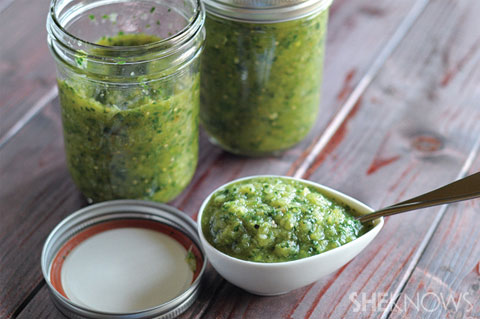 Pineapple tomatillo salsa
Makes 4 cups of salsa
Ingredients:
1 pound fresh tomatillos, skins removed and washed clean
2 small jalapeno peppers
1 bunch fresh cilantro leaves, washed and dried
2 cloves garlic, roughly minced
1/2 large white onion, chopped roughly
1-1/2 cups crushed pineapple in juice, drained
2 tablespoons lime juice
1 teaspoon salt
1/2 teaspoon pepper
Directions:
Preheat oven to broil.
Line a baking sheet with parchment paper and place tomatillos on top.
Broil tomatillos for about 10 minutes until the juices start to run and the outsides are blistered and charred.
Let cool completely before making the rest of the salsa.
For the salsa, combine all ingredients in a large high-powered food processor.
Pulse 4-5 times to get the ingredients chopped, and then turn on the food processor and process until the desired consistency is reached.
Serve cold or at room temperature with chips, vegetables or other vehicles for the goodness!
Even more fabulous salsa recipes!
Fresh blackberry salsa
Watermelon and tomato salsa
Sweet mango summer salsa