Healthy blueberry oatmeal pancakes
Breakfast can be simple, delicious and healthy — just make these healthy blueberry oatmeal pancakes with tons of whole grains and fruit! Simple, beautiful and delicious, and just the right way to send the kids off to school!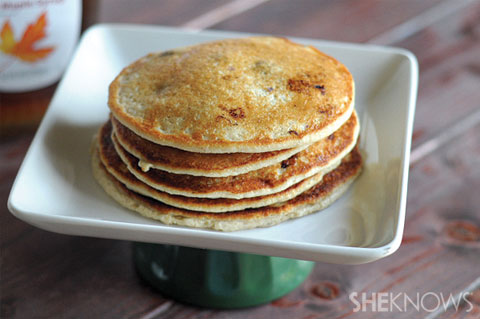 Healthy blueberry oatmeal pancakes
Makes 20 small pancakes
Ingredients:
2 cups full-fat cottage cheese
2 cups old-fashioned rolled oats
2 extra-large eggs
2 tablespoons sugar
2 tablespoons milk
1 teaspoon vanilla extract
Pinch of salt
1 cup fresh or frozen blueberries
Directions:
Combine all ingredients in a high-speed blender and blend until smooth.
Heat a griddle over medium-low heat until very hot. Spray with nonstick spray.
Pour the pancakes 1/4 cup at a time, drop 4-5 blueberries into the batter on top, and cook for about 2-3 minutes per side until golden brown and cooked through.
Repeat until all of the batter is used up.
Serve hot with butter, syrup or any other favorite pancake toppings.
To freeze, allow the pancakes to come to room temperature, and then wrap each 1 in parchment paper and freeze. To reheat, simply pop them in a toaster until heated through!
More yummy pancake recipes