Chilies and cheese corn casserole
Corn casserole is kicked up with the addition of green chilies.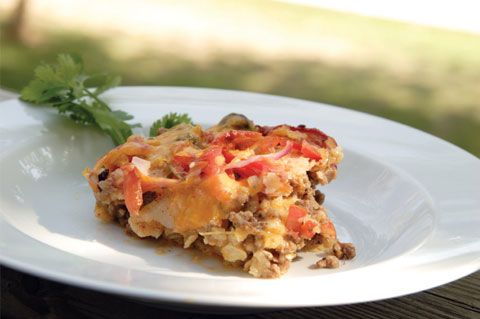 A delicious complement to your Easter ham, every bite of this corn casserole tastes both sweet and spicy. Though the chilies have a kick, the sweet corn muffin mix and the cream style corn truly do mellow out any heat that you might fear is overpowering.
Chilies and cheese corn casserole
Serves 6-8
Ingredients:
2 cans cream style corn
1 (8-1/2 ounce) box corn muffin mix
1 (8 ounce) container sour cream
2 eggs, beaten
6 tablespoons butter, melted
1 (4 ounce) can green chilies
1 cup shredded cheddar cheese
Directions:
Beat all ingredients together in a medium sized bowl.
Grease a 9 x 9-inch casserole dish. Bake at 350 degrees F for 40-45 minutes or until the center no longer "jiggles."
More Easter side dishes
Fruited sausage stuffing
Easter dinner best side dishes
Easy elegant Easter recipes