Spring bacon wrapped chicken
Stuff chicken breasts with cheese and herbs, wrap in bacon and bake!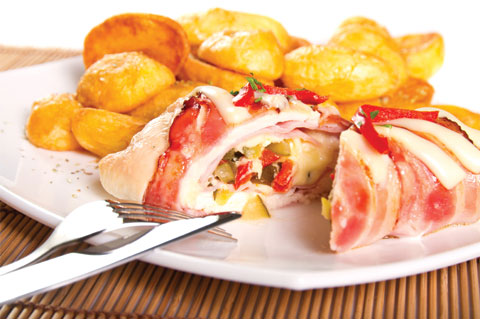 There's nothing better than a spring chicken, so wrap yours in bacon and stuff with cheese and herbs. Let your kids help you by pounding the chicken and adding the fresh thyme to the mixture. Older kids might even enjoy helping you with the entire process!
Spring bacon wrapped chicken
Serves 4
Ingredients:
3 boneless, skinless chicken breasts
3 slices bacon
8 ounces cream cheese, softened
1 block Monterey Jack cheese, cut into strips
1 tablespoon cayenne pepper
2 tablespoons fresh thyme, chopped
1 tablespoon olive oil
Directions:
Preheat oven to 375 degrees F.
Place 1 chicken breast between a large piece of parchment paper (fold parchment paper over top of chicken) and pound chicken with a rolling pin until it is about a 1/2-inch thick. Season both sides with salt and pepper and repeat with other 2 pieces of chicken.
Stir cream cheese and cayenne together. Spread a layer of cream cheese onto the pounded chicken. Sprinkle thyme over cream cheese, and then place cheese on top of that.
Starting at 1 end, roll the chicken breast and secure with toothpicks.
Wrap each breast with a piece of bacon. Repeat with other chicken breasts.
Place chicken in a greased casserole dish and lightly drizzle the top of the chicken with olive oil and add more salt and pepper.
Bake for 45 minutes to an hour.
When you slice the chicken, it looks like pinwheels. It's easy to do, yet elegant looking!
Try these other stuffed chicken breast recipes
Spinach stuffed chicken
Light and healthy stuffed chicken breasts
Goat cheese and arugula stuffed chicken breasts