Dinner shortcuts: Cheese ravioli lasagna
Cheese ravioli, meat sauce and cheese are combined to make a delicious and satisfying dinner. Your family will love this dish!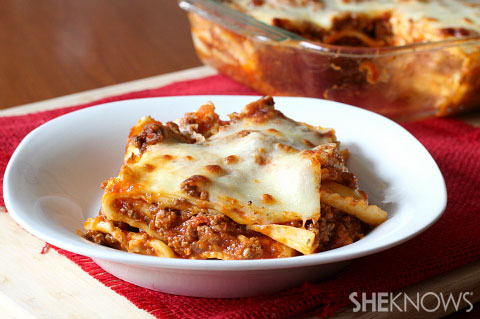 Lasagna can take hours to put together and cook. We took all that flavor and made it available in less than an hour! Delicious cheese ravioli is layered with meat sauce and covered with stringy shredded mozzarella cheese. This is one dish you will want to make every week!
Cheese ravioli lasagna recipe
Yield 9 x 9-inch dish
Ingredients:
1 pound ground beef
1 small onion, diced
2 teaspoons Italian seasoning
1 jar (28 ounce) tomato sauce
1 bag (25 ounce) frozen cheese ravioli
1-1/2 cups mozzarella cheese
Directions: 
In a large skillet, add ground beef, onion and Italian seasoning. Cook ground beef until browned and onions are soft.
Drain fat from the skillet and add in tomato sauce. Let simmer until warm while you prepare the ravioli.
Bring water to a boil in a large pot. Once boiling, add in cheese ravioli and cook until they float to the top, drain.
In a 9 x 9-inch glass dish, add 1/4 of the meat mixture, a layer of cheese ravioli and cover with 1/2 cup of cheese. Do this for 2 more layers. On the last layer, top with remaining meat mixture and cheese.
Cover with foil and bake for 30 minutes. Remove the foil and bake for another 10-15 minutes until cheese is melted and browned.
More simple dinner recipes
Slow cooker pot roast sliders recipe
Homemade beef and broccoli recipe
One-skillet spicy sausage pasta recipe