Dinner shortcuts: Taco mac casserole
Spiced taco meat and creamy macaroni and cheese are combined to create a flavorful casserole. It's the quick dish of your dreams!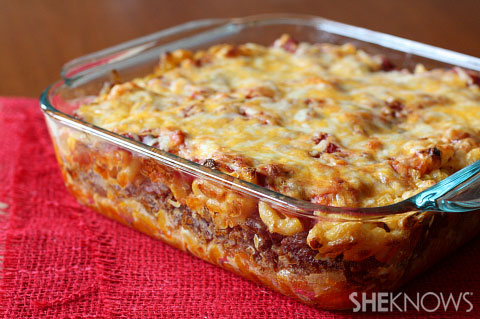 Sometimes the weekday dinner routine is just too much to handle. Kids need to get to practice, the house needs to be cleaned and somewhere in the middle you have to find time to start dinner. This simple taco mac dish combines macaroni and cheese and flavorful taco meat. It's bound to be a hit and the best part is that it's quick and easy.
Taco mac casserole recipe
Yield 9 x 9-inch dish
Ingredients:
1 box creamy macaroni and cheese (the kind that comes with creamy cheese in the foil packet)
3/4 cup sour cream
1 pound ground beef
1 packet taco seasoning
1 cup mild or medium salsa
1-1/2 cups shredded Mexican blend cheese
Directions:
Preheat oven to 400 degrees F.
Prepare macaroni and cheese according to box directions. Stir in sour cream and set aside.
Start browning ground beef, and once browned, drain off all the fat. Add in taco seasoning and follow directions on the back of the taco seasoning packet. Cook until the meat is dry and water no longer remains.
In a 9 x 9-inch glass casserole dish, put in half of the macaroni and cheese mixture. Top with all of the ground beef and sprinkle with 1 cup of shredded cheese. Top with remaining macaroni and cheese mixture and cover with foil. Bake for 15 minutes.
Take off the foil, cover the dish with salsa and remaining 1/2 cup shredded cheese. Bake uncovered for 5-8 minutes until the cheese is melted and browned.
More simple dinner recipes
Slow cooker pot roast sliders recipe
Homemade beef and broccoli recipe
One-skillet spicy sausage pasta recipe