Cold brew iced coffee
Just because the weather is warmer doesn't mean you don't still need a caffeine boost. Cold brew iced coffee makes all the coffee you'll need for a week, and it can be warmed up should the weather decide to change! Additionally there are three options to make a flavored coffee concentrate with vanilla, cinnamon or hazelnut!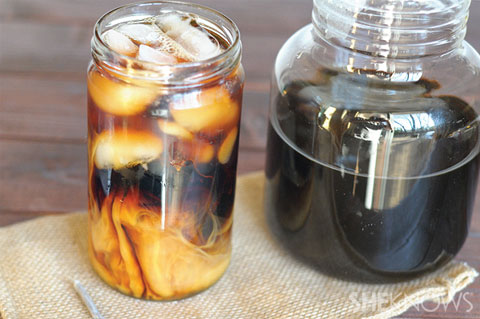 Cold brew iced coffee in 3 flavors
Each batch makes 4 cups of iced coffee concentrate
Ingredients:
1-3/4 cups strong ground coffee
8 cups filtered water
2 whole vanilla beans, 4 cinnamon sticks, 1 cup chopped roasted hazelnuts
Directions:
Pour the ground coffee into the bottom of a large pitcher, along with either the vanilla beans, cinnamon sticks or the chopped hazelnuts.
Pour the filtered water over the coffee.
Cover and let sit at room temperature for 24-48 hours.
Line a large colander with paper towels and place over a large bowl.
Gently pour the coffee ground mixture over the paper towels. Allow to sit for about 20 minutes to allow all of the coffee to drain through the grounds.
This makes a concentrate with a 1:1 ratio of concentrate to water. To make an 8-ounce glass of iced coffee, pour 4 ounces of the concentrate into a glass with ice and then another 4 ounces of water.
Serve cold!
More exciting coffee recipes
Irish temper
Amaretto coffee cocktail
How to oven-roast your own coffee