Matzo ball soup with chicken
There's not much that a bowl of delicious hot soup can't fix! This recipe for matzo ball soup with chicken is a delight, even when everything is fine!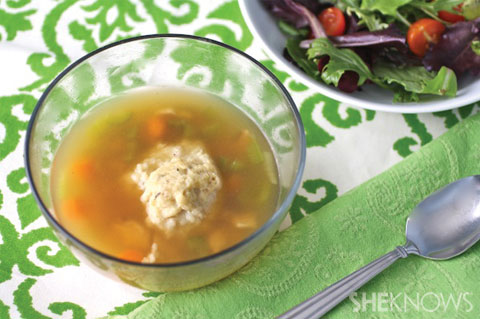 Whether you're getting ready for the holidays, looking for a soup to keep you warm on a cold day or feeling under the weather, matzo ball soup with chicken makes the perfect meal. This recipe is very easy to make, and we use precooked chicken breast to add to the soup at the last minute — this might be a good way for you to use leftover chicken from a previous meal.
Matzo ball soup with chicken
Serves 4-6
Ingredients:
2 (6 ounce) precooked chicken breasts, cubed
1/2 cup matzo ball mix (you can find this in most grocery stores)

2 eggs

2 tablespoons vegetable oil

2 teaspoons salt, divided

4 cups reduced-sodium chicken or vegetable broth, plus 2 cups water

1-1/2 large carrots, sliced into 1/2-inch pieces

1-1/2 stalks celery, sliced into 1/2-inch pieces

1 garlic clove, minced
2 teaspoons dried thyme, divided
1/4 teaspoon black pepper, or to taste
Directions:
Prepare the matzo ball mix according to the package directions. For this, you'll need the 2 eggs, vegetable oil, 1 teaspoon salt and 1 teaspoon dried thyme. The directions for most prepackaged matzo meal call for adding the beaten eggs and the vegetable oil to the meal. Also add 1 teaspoon salt and 1 teaspoon dried thyme.
When the matzo meal is combined, refrigerate the mixture for at least 15 minutes.
Once set, roll the mixture into 1-inch balls and carefully add them to 6 cups of boiling water.
Cover, reduce the heat to a simmer, and cook the matzo balls for about 30 minutes.
Meanwhile, in a separate large pot, bring the chicken or vegetable broth and 2 cups of water to a boil.
Add the carrots, celery, garlic, pepper, 1 teaspoon dried thyme, black pepper and 1 teaspoon salt. Simmer for about 15 minutes.
When the matzo balls have cooked, carefully transfer them to the stock.
Add the chicken and continue to cook, just for a few minutes, until the chicken has heated through.
Serve hot in individual bowls, and include 1 matzo ball, veggies and chicken in each bowl.
You'll simply love this soup!
More dinnertime recipes
Healthier tater tot casserole
Stuffed spinach and corn packets
Chicken with creamy roasted tomato and basil sauce