Turnip greens and ham
Another "green" to add to your side dish rotation.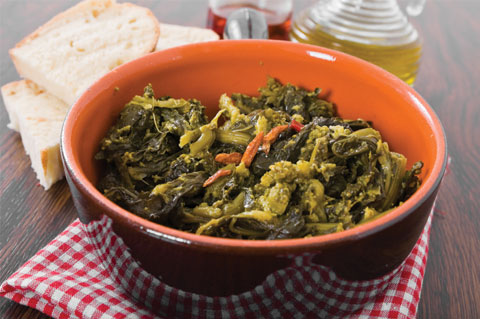 Greens and ham are the delightful ingredients in this pot of turnip greens. A popular dish in the South, greens like collard greens or turnip greens are often found on the table for Sunday dinner. Turnip greens tend to be less bitter than collard greens. Use any leftover Easter ham to make this wonderful dish, or just make it to go along with your Easter ham!
Turnip greens and ham
Serves 6
Ingredients:
1 teaspoon granulated sugar
1 medium yellow onion, diced
3/4 pound ham, chopped (ham hock included, if available)
1 (16 ounce) bag fresh turnip greens
4 cups reduced sodium chicken broth
1 teaspoon balsamic vinegar
1 tablespoon red pepper flakes
Directions:
In a large soup pot, remove about 2 tablespoons of the ham, add to the bottom and cook over medium heat.
Using a wooden spoon to coat the pot with the ham, add a splash of olive oil, if needed (for fat). Then, add the diced onion.
Cook for about 2 minutes, and then add the turnip greens, chicken broth, balsamic vinegar and sugar. Stir to combine, and then add the red pepper flakes.
Cover and cook for 2 hours, stirring occasionally.
More greens recipes