Barbecue chicken pizza
In a hurry for a fun, satisfying meal? It only takes about 15 minutes to get this great tasting barbecue chicken pizza on your table.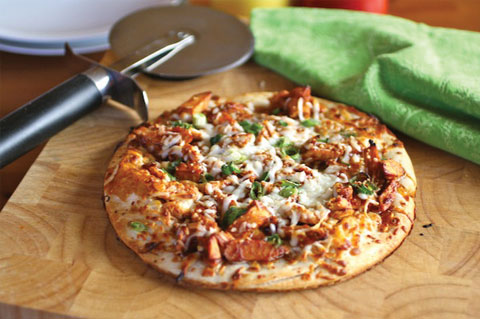 Don't dial up for delivery when you're hungry for a unique pizza in a hurry! Get a little creative while still getting a meal ready in no time. This recipe for barbecue chicken pizza fits the bill.
Use a prepared pizza crust, precooked chicken and your favorite barbecue sauce and cheese to whip up a unique pie to enjoy. Speedy prep and cooking time will make this pizza a favorite in your home for sure! This recipe is for a "personal" size, but you can double up on the ingredients for a larger pizza.
Barbecue chicken pizza
Yields 1 (8-inch) pizza
Ingredients:
1 (8-inch) prepared pizza crust
4 ounces precooked chicken, cut into cubes or short strips
3 tablespoons barbecue sauce
2 ounces shredded mozzarella cheese
1 green onion, chopped
Directions:
Preheat the oven according to the pizza crust directions.
In a medium bowl, combine the chicken and barbecue sauce. Mix to thoroughly coat the chicken.
Spread the mixture over the prepared pizza crust, just to the edges.
Sprinkle with the mozzarella cheese and top with the green onion.
Bake according to the pizza crust directions, or until the crust is cooked and the other ingredients are warmed through.
More quick and easy recipes
Easy garlic white pizza
Leftover mashed potato gnocchi
Goat cheese and pear-apple quesadillas