St. Patrick's Day chocolate donuts
Skip the food dye-laden treats normally found on St. Patrick's Day menus and make these rich chocolate donuts instead. These festive donuts are free from food dye and are baked, not fried!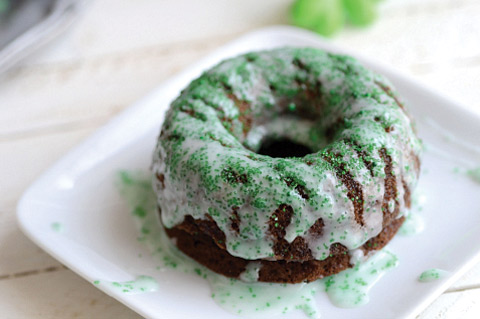 Because these super moist and fluffy donuts are baked, they are lower in fat and calories than traditional cake donuts. Let your kids join the fun of making these by adding the festive green sprinkles on top!
St. Patrick's Day chocolate donuts
Yields 6 donuts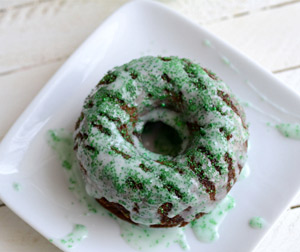 Ingredients:
1 cup all-purpose flour
1/2 teaspoon baking soda
1/4 cup unsweetened cocoa powder
Dash of salt
1 egg
3 tablespoons butter, softened
1/2 cup light cream
1/3 cup sugar
1 teaspoon vanilla
For the glaze: 
1 cup powdered sugar
2-3 tablespoons milk
Green sprinkles
Directions: 
Preheat oven to 325 degrees F. Lightly grease a donut pan with cooking spray.
In a large bowl, whisk the flour, baking soda, salt and cocoa powder together. Set aside.
In another bowl, beat the egg, butter, light cream, sugar and vanilla together until creamy. Slowly add the wet mixture to the dry mixture. Mix until fully combined (do not over mix).
Spoon or pipe the mixture into the donut pan, filling each cavity about 2/3 the way full.
Bake for about 12-14 minutes or until a toothpick inserted in the middle comes out clean. Let cool for about a minute in the pan and then move to a wire cooling rack.
To make the glaze, mix the powdered sugar and milk together. Once donuts have completely cooled, drizzle with the glaze. Or you can dip each donut into the glaze for a more even finish. Sprinkle with green sprinkles and enjoy!
More donut recipes
Cinnamon sugar baked donuts
Baked eggnog donuts with eggnog rum glaze
Orange cranberry donut recipe