Waffle-grilled BLT
Change up the grilled cheese routine by placing everyone's favorite sandwich in a waffle iron instead! Waffle-grilled BLT sandwiches have a surprise smear of Brie instead of mayonnaise and tons of bacon for extra flavor!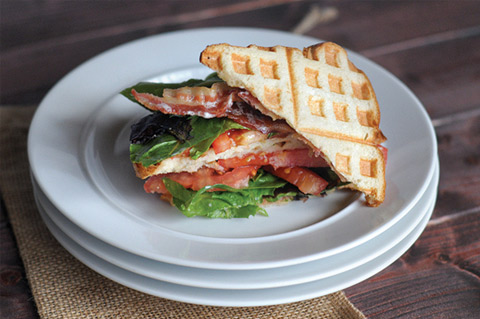 Waffle-grilled BLT
Makes 4 sandwiches
Ingredients:
8 slices bread of choice
16 slices thick-cut bacon, cooked to crisp
4 leaves iceberg lettuce, washed
3 large beefsteak tomatoes
4 ounces Brie, rind removed
Salt and pepper to taste
Directions:
Preheat waffle iron on high.
Spread 4 slices of bread with 1 ounce of Brie cheese.
Layer the bacon on top of the brie.
Layer the tomatoes on top of the bacon.
Season with salt and pepper if desired.
Place remaining slice of bread on top of the tomatoes.
Place the sandwich in the waffle iron and press down to make sure the entire slice of bread is grilled.
Let the sandwich cook for about 2-3 minutes until golden brown.
Remove from the waffle iron, remove the top piece of bread, and place the lettuce inside.
Top the lettuce with the bread.
Serve hot.
More fun grilled sandwich options
Brie, blueberry and balsamic reduction sandwich
Pepperoni grilled cheese
Biscoff and banana grilled cheese