Monkey bread cups
Individual monkey bread bites!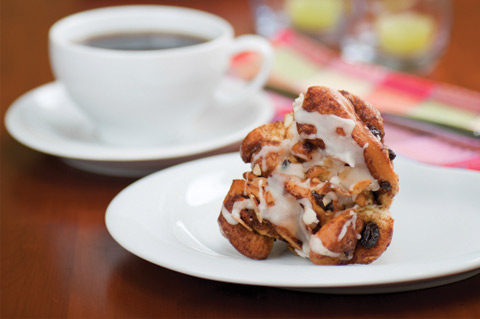 Make monkey bread as usual, except place them in individual muffin liners. Let the kids help you with this and everyone will enjoy the fun time making them as well as eating them!
Monkey bread cups
Makes 12
Ingredients:
3 (12 ounce) packages refrigerated biscuit dough
1 cup white sugar
2 teaspoons ground cinnamon
1/2 cup butter
1 cup firmly packed brown sugar
Directions:
Preheat oven to 350 degrees F. Line muffin pan with cupcake liners.
Mix white sugar and cinnamon in a large zip top or brown paper bag.
Cut each biscuit into quarters.
Shake 6 to 8 pieces in the sugar and cinnamon mix until all have been coated. (If more sugar/cinnamon is needed, just add to the bag as you go along).
Arrange pieces in cupcake liners, about 5-6 pieces per liner.
Continue until all biscuits are coated and place in liners.
In a small saucepan, melt the butter with the brown sugar over medium heat.
Boil for 1 minute. Spoon over biscuits.
Bake for 23-25 minutes.
More hand-held breakfasts
Bacon and egg toast cups
Baked eggs in turkey cups
Make ahead breakfasts