Italian sausage and 4 cheese ravioli
Using frozen ravioli, this delicious dinner is done in a flash!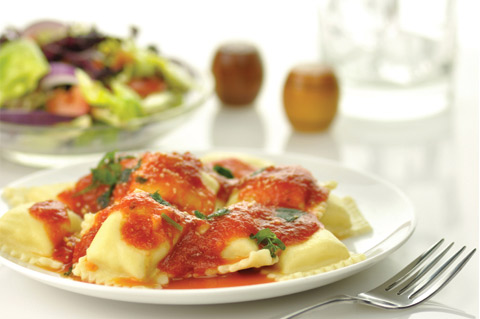 Italian night is a delightful way to enjoy ravioli day by making this delicious dish. Italian sausage, ravioli and marinara, just make sure you make enough!
Italian sausage and 4 cheese ravioli
Serves 6-8
Ingredients:
1 pound mild Italian sausage, cut into bite-size pieces
1 package 4 cheese ravioli (found in the refrigerated section)
1 can or jar of your favorite spaghetti sauce or marinara sauce
1 pint heavy whipping cream
1 onion, diced
1 red bell pepper, diced
Fresh basil, if desired
Directions:
In a large pot, boil 5 quarts of water and add ravioli.
Cook for 7 to 9 minutes.
Saute sausage, onion and bell pepper until sausage is done.
Remove from pan. Add sauce to pan and heat until warm.
Add cream and stir until incorporated into the sauce. Add sausage mixture. Add chopped basil if desired.
Drain ravioli. Put desired amount of sauce over ravioli. Serve with salad and garlic bread.
More Italian sausage recipes
Baked ziti with sweet Italian sausage
Curly fusilli pasta with sweet sausage
Penne pasta, sausages and peppers