Bento box from last night's leftovers
Meatloaf is one dinner leftover that tastes even better the next day — as a sandwich for lunch. Actually, my main goal in making meatloaf is to have the leftovers!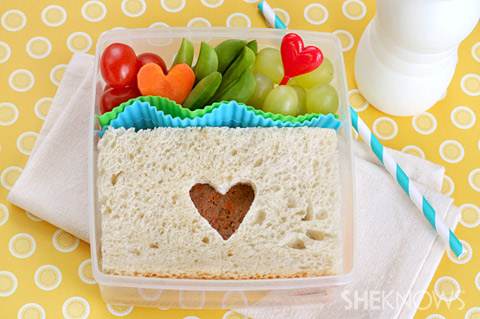 Rather than pack up leftovers into a basic paper bag, I like packing sandwiches and sides into colorful and creative bento boxes. Bento boxes help make the meal a little more fun, and with a little creativity, you can turn almost any plastic container into a makeshift bento box.
Leftover meatloaf sandwich
Serving size 1
A meatloaf sandwich is very quick and easy to make and works well in lunchboxes when reheating is not an option.
Ingredients:
2 bread slices
1 or 2 leftover meatloaf slices (depending on bread size) 
1 cheddar cheese slice
Ketchup, to taste
Mayonnaise, to taste
Directions:
Spread ketchup and mayonnaise onto bread slices.
Assemble cheese and meatloaf between bread slices.
Note: Other popular toppings are lettuce, pickles and mustard.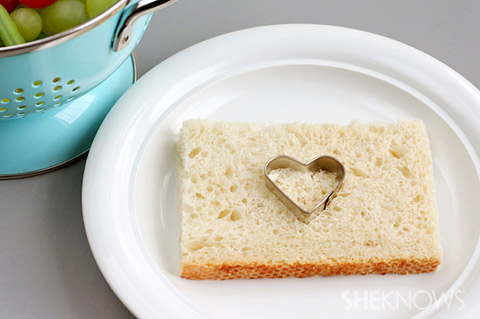 Embellish it!
One of my favorite ways to add a little cuteness to a sandwich is by adding a negative shape to the top. I keep a stock of mini cookie cutters that make this quick to do.
Simply punch a shape from the center of one slice of bread using a mini cookie cutter on a protected surface. Use this slice for the top of your sandwich to reveal an unexpected peek inside.
Turn it into a meal
Raw fruits and vegetables are a healthy and speedy way to round out this easy lunch. When packing these items together in an open container, be sure to pick fruits and vegetables that will not transfer their scents or flavors. Here I have chosen grape tomatoes, sugar-snap peas and grapes.
To protect these side items from the ketchup glaze of the meatloaf sandwich, I decided to get creative with supplies I had. I keep square silicone baking cups on hand to divide large, open lunchboxes into smaller spaces. Since they come in packs of twelve, I have plenty to play with. By cutting down one corner of a square silicone baking cup and trimming off the bottom, I was left with a flexible strip I can cut and place anywhere needed to separate items. Instant bento box, no matter the container!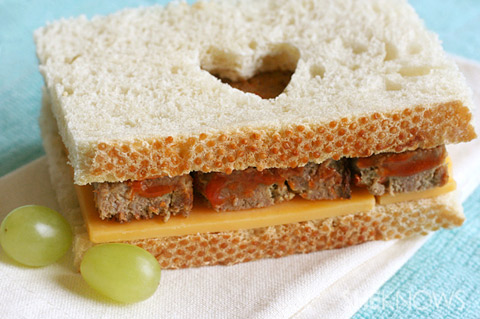 Meatloaf
Serving size 8
Here is a meatloaf recipe to try if you do not already have your own favorite.
Ingredients:
1-1/2 pounds lean ground beef
3/4 cup Italian-style bread crumbs
1/2 cup carrots, grated
1/4 cup onion, finely chopped
2 eggs
1 tablespoon Worcestershire sauce
Salt and pepper, to taste
1/3 cup ketchup
1 tablespoon brown sugar
Directions:
Preheat oven to 350 degrees F.
In a large mixing bowl, combine ground beef, bread crumbs, carrots, onion, eggs, Worcestershire sauce, salt and pepper.
Centered in a 9 x 13 inch baking dish, form mixture into a loaf.
In a small bowl, combine ketchup and brown sugar. Brush mixture onto meatloaf.
Bake meatloaf for one hour or until internal temperature reaches 160 degrees F.
More meatloaf recipes
Meatloaf gets a healthy makeover
Mexican turkey meatloaf
Caribbean jerk meatloaf