Pancake bar
Celebrate Pancake Day by setting up a pancake bar.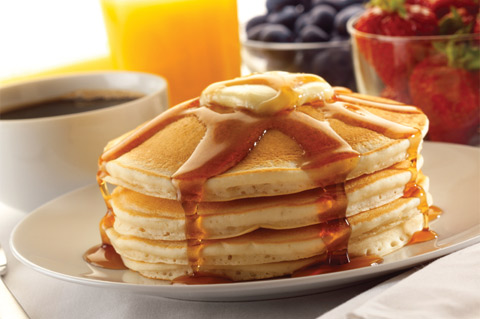 You can easily create a pancake bar by placing little bowls of various toppings out. Each person can select what goes into their pancakes as you pour the batter onto the griddle. Make it a family affair by having the older kids cut the bananas and strawberries. Younger family members can help pour chocolate chips and sprinkles into various bowls. Sprinkle pancakes look like confetti once they are cooked, which become rainbow pancakes when using multi-colored sprinkles.
Pancake bar
Makes 8-10 pancakes
Ingredients:
3 cups all-purpose flour
5 teaspoons baking powder
Tiny pinch of salt
2 (heaping) tablespoons sugar
2 to 2-1/2 cups milk
5 tablespoons butter, melted
2 teaspoons vanilla (or any flavoring that you would like)
2 eggs, beaten
Mix-ins:
1 bowl chopped strawberries
1 bowl sliced bananas
1 bowl (about 1 cup) chocolate chips
1 bowl (1 cup) shredded coconut
1 bowl sprinkles
Directions:
In a large bowl, mix dry ingredients with a fork, and stir well to combine.
In a separate bowl, add milk, butter, vanilla and eggs, and then make an indention with your finger in the bowl with dry ingredients. (Like you are digging a hole.)
Add wet ingredients, mix until combined, and then stop. You do not want to over-mix.
Lightly grease and heat your pancake griddle.
Using a ladle or an ice cream scoop, add your batter to the griddle, place toppings on top of batter and cook. (You will see bubbles on the edges and that tells you it is time to flip!) 
Cook on both sides until lightly browned.
If you're making pancakes that are all the same flavor (e.g. chocolate chips), you can add those into the batter before placing on the griddle.
Note: You may find that you need less milk, or you may find that you need more. Once you begin to stir your batter, you will learn each time if you want it thicker or thinner.
More delicious breakfast ideas
Sausage milk gravy
Blueberry pastries
Homemade strawberry toaster pastries