Tostones
A fabulous appetizer, these delicious tostones are a unique, delicious treat!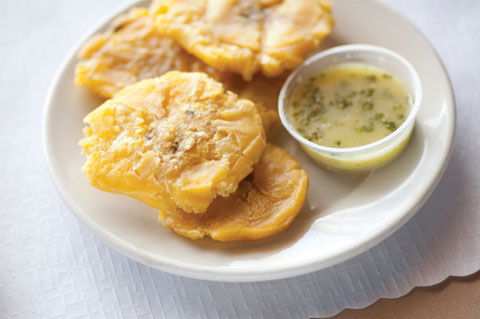 Tostones are a wonderful Cuban treat that you will find at most restaurants and walk-ups in Miami. This Cuban side dish looks battered but is just a plain plantain that has been fried! These little treats are so easy to make and you only need the plantain, oil and salt!
Tostones
Makes about 20
Ingredients:
3 green plantains
Vegetable oil
Salt
Directions:
Soak the plantains in a large bowl with warm, salted water to make skin removal easier.
With a sharp knife, cut the ends off the plantain, and then use the knife to cut down the peel of the plantain. Pull apart the peel, and remove the peel with your hands.
Cut the plantain into 2-inch slices.
Add the oil about 1/3 of the way full in the skillet over medium-high heat.
Once the oil is hot, fry the plantains for about 4 minutes, turning over 1 time, just until they are soft.
Remove from heat, and place on a paper bag or several paper towels. Smash with the bottom of a glass, your fist, a bowl or a saucepan.
Allow the oil to reheat, this time even hotter than before (about 375 degrees F) and fry again, until golden brown on both sides.
Remove from skillet and place on paper towels to drain. Sprinkle with salt and serve immediately with hot sauce.
More recipes with plantains
Sweet & savory plantains
Mofongo with shrimp
Plantains with cream