How you and your kids can eat healthy over spring break
Traveling for spring break? Here are tips to stay healthy and not "overindulge" too much.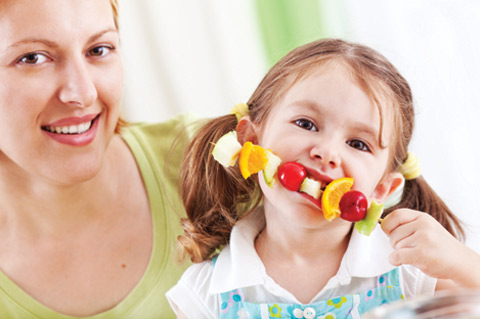 Hitting the road and the beach? You can still make healthy choices, even while enjoying a cocktail AND a dessert! Traveling or not, "vacation" time often means we let our guard down and want to "splurge." Be careful about letting your guard down too much. Suddenly, the "one soda per week" rule for your kids turns into two sodas a day. The "no junk food" diet turns into bags of chips all over the place and sodium-packed convenient meals. Whether you are eating out because you are on vacation, or eating in the condo, here are some ways to eat healthy over spring break.
Drinks
Falling into the soda habit can not only be dangerous but extremely unhealthy. If you or your kids want something to drink, flavor your water. Thinly slice lemons, limes and oranges and place them in a pitcher of water. Refrigerate it at night so the flavors have time to get into the water. Or, squeeze the juice into the water, and then add extra slices. Flavored water will make you less likely to reach for a sugary soda. Also consider strawberries, blackberries and mint. Keep plenty of frozen fruit on hand so you can "toss" it into your drinks. If you are staying in a hotel instead of a condo, you can still do this. Purchase a cheap pitcher and fill the pitcher with water and ice to keep it cold, and then squeeze the fruit into the pitcher of water.
Snacks
Sure you can keep fresh veggies on hand, but kids often find that boring. Think of other great healthy snacks. If you are going to be out by the pool (or beach), a cool snack is refreshing. Put grapes in the freezer for at least an hour or two, and then put the frozen grapes in a sandwich bag and toss in the cooler. Freeze small containers of yogurt to have for car rides or snacks outside. It will be a cold, slushy treat, but a healthy one. Keep a bag of nuts or even pretzels available for something crunchy, rather than potato chips.
Meals
Breakfast in the room/condo can still be healthy. Get some Greek yogurt, fruit and honey, which is much better than sugary cereals. Keep salad fixings in the refrigerator and let your kids help you pick out what will go in the salad. Sunflower seeds, broccoli and cauliflower and red bell pepper strips are all fine choices. You can also give an award for the most colorful salad and make it a game! If you are eating out, just because you are on vacation does not mean you should go crazy. Although the beer battered onion rings or the beer battered fish sandwich is quite tempting, choose one of the other options. If you "splurge" on an appetizer, opt for an entree that is healthier. If you omit the appetizer, treat yourself to a slice of key lime pie. If you ordered a large frozen cocktail, you might reconsider dessert. The same goes for your kids. Talk about healthy options and how you can select something "good for you" and it can still be tasty. Compromise is a valuable lesson in life, and it even applies to our food selections.
There is no need to deprive yourself, but shaping your minds to live a healthy lifestyle is a 24/7 way of living, not just certain days.
Healthy food options
Healthy snack recipes
Delicious on-the-go meals
What to eat after yoga