5 Baked potato ideas for busy nights
Don't think you can make a meal from a baked potato? Think again! Turn this normally boring side dish into a hearty entrée with one of these unique and super-flavorful baked potato recipes!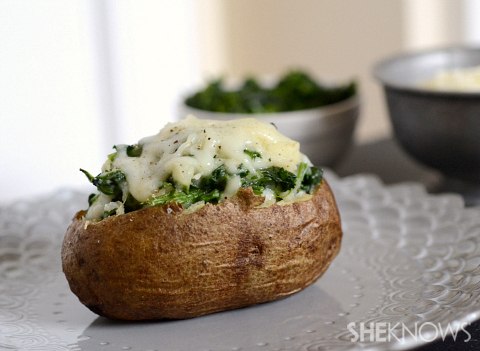 These aren't your mama's potatoes. Filled with buffalo chicken, cheesy spinach, shrimp, bacon and more, these potatoes are filling and full of flavor. Plus, by using pre-baked potatoes, rotisserie chicken, cooked shrimp and leftovers, each one of these can be made in less than 15 minutes!
Cheesy, spinach-dip, double-baked potatoes
Recipe adapted from My Recipes
Serves 5
Ingredients:
5 medium-size russet potatoes, baked
1/2 cup milk
3 tablespoons butter
4 tablespoons cream cheese
1-1/2 cups mozzarella cheese, divided
1/4 cup Parmesan cheese
8 ounces spinach, cooked
Directions: 
Preheat oven to 400 degrees F.
Carefully scoop out the insides of each potato and place in a medium bowl. Add milk, butter and cream cheese. Beat with an electric mixer until mashed. Add salt and pepper. Stir in about 1 cup of the mozzarella cheese, Parmesan cheese and spinach. Mix to combine.
Scoop a hefty amount of spinach-and-cheese filling into each potato skin. Sprinkle the tops with the remaining mozzarella cheese and bake for about 10 minutes, or until cheese is melted.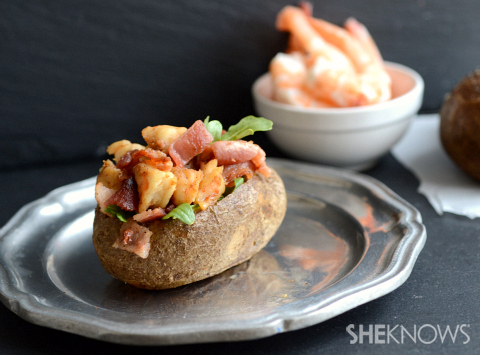 Cajun shrimp-and-bacon stuffed potatoes
Serves about 4
Ingredients:
4 baked potato skins, insides removed (and saved for another use)
4 slices of bacon
1 cup cooked shrimp, chopped into bite-size pieces
1 tablespoon Cajun seasoning
1 cup baby arugula
Salt and pepper
Directions: 
Mix the shrimp and Cajun seasoning together in a bowl and let sit for about five minutes.
In a skillet over medium heat, cook bacon until crispy, about five to seven minutes. Remove from pan and place on a paper towel. Chop into pieces. Save 2 tablespoons of bacon grease and discard the rest.
In the same skillet, cook the shrimp in the bacon grease for about three minutes, or until browned on each side. Remove from skillet and place in a bowl. Mix the shrimp bites and bacon bits together.
Layer about 1/4 cup of baby arugula in each potato skin. Top the arugula with a heaping spoonful of shrimp and bacon. Garnish with salt and pepper.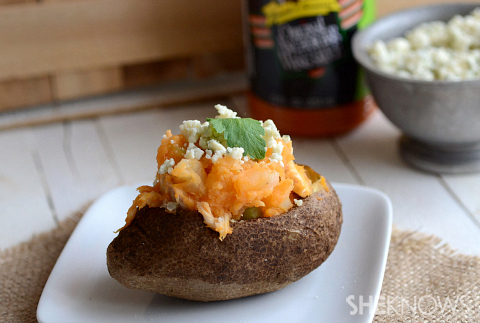 Buffalo-chicken stuffed potatoes
Recipe adapted from Franks Red Hot
Serves about 4
Ingredients:
4 medium baked potatoes, insides removed
1 cup shredded rotisserie chicken
1/4 cup plus 1 tablespoon buffalo sauce
2-1/2 tablespoons butter
1/3 cup low-fat sour cream
1/4 cup blue cheese
2 stalks of celery, chopped
Salt and pepper
Directions: 
Preheat oven to 400 degrees F. Mix the chicken, hot sauce and celery together. Set aside. In another bowl, mash the potato filling, butter and sour cream together. Mix the chicken mixture into the mashed potatoes.
Stuff each potato skin with the mashed buffalo-chicken mixture. Place the potatoes on a baking sheet and bake for about three to five minutes, or until hot.
Garnish each potato with blue cheese and celery leaves.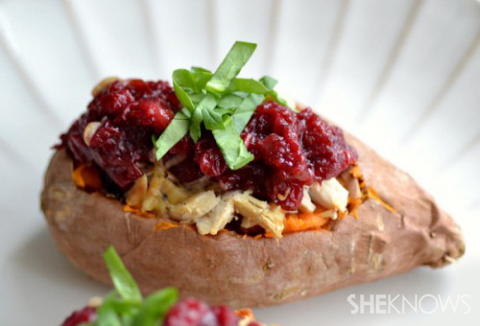 Turkey and cranberry stuffed sweet potatoes
Serves 4
Ingredients:
3 large sweet potatoes
3-1/2 tablespoons butter
6 to 8 tablespoons heavy cream
1-1/2 cup shredded turkey
4 tablespoons cheddar cheese
6 tablespoons cranberry sauce
4 tablespoons lettuce or arugula
Salt and pepper
Directions: 
Preheat your oven to 400 degrees F. Prick the potatoes with a fork to allow ventilation, and bake for 60 minutes — or until soft. While the sweet potatoes are still soft, cut the potatoes lengthwise and scoop out the insides (carefully — not to break the skin) and place in a mixing bowl.
Add the butter and cream to the potatoes and mash with an electric mixer until smashed. Add the salt and pepper to taste.
Scoop about 2 to 3 tablespoons of mashed sweet potatoes back into the potato skin. Place the turkey on top of each potato and sprinkle the cheese over the turkey. Place in the oven and bake for about five minutes, or until the cheese is melted. Remove from the oven.
Scoop the cranberry sauce over the turkey and garnish with arugula.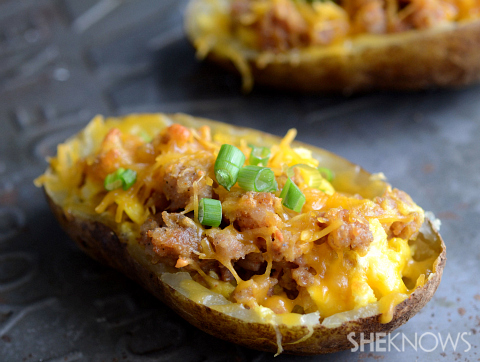 Sausage, egg and cheese stuffed potato skins
Serves 4
Ingredients:
2 large russet potatoes, baked and cut in half, insides removed
8 ounces pork sausage, cooked
4 eggs, beaten
2 green onions, chopped
1 cup cheddar cheese
Salt and pepper
Directions: 
Preheat oven to 400 degrees F.
In a medium skillet, add eggs and green onion. Scramble using a spatula and add salt and pepper. Cook until nice and fluffy over medium heat, about 3 minutes. Remove from heat and add in 1/2 cup cheese.
Mix the eggs and sausage together. Scoop egg and sausage mixture into the potato skins and top with remaining cheese. Bake for about five minutes, or until cheese is melted.
Add green onions for garnish and enjoy!
More quick potato recipes
Quick and easy takes on baked potatoes
Quick potato cheese bake
Quick leftover-mashed-potatoes Shepherd's pie recipe