Mini four-leaf clover pizzas
What kid doesn't love pizza? Have some fun with their favorite dinner this St. Patrick's Day by turning your pies into little shamrocks!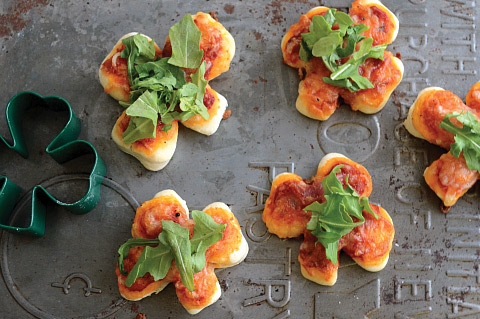 These adorable four-leaf clover pizza bites are the perfect after-school snack or dinner idea for St. Patrick's Day this year. These aren't just fun to eat — they are fun to make too! Enlist your kids' help as you stamp out shamrock shapes from the pizza dough and top with their favorite toppings!
Mini four-leaf clover pizzas
Serves about 6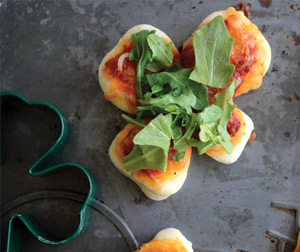 Ingredients:
1 pizza dough (for homemade, use this recipe)
About 1/2 cup pizza sauce
About 2/3 cup mozzarella cheese
Pepperoni or sausage
Baby arugula
Four-leaf clover cookie cutter
Directions: 
Preheat oven to 400 degrees F. Lightly grease a pizza pan or stone.
Roll dough out to about 1/8-inch thickness. Using the cookie cutters, cut out shamrock shapes and place on the greased baking sheet. If you want a larger pizza too, trace a large four-leaf clover shape into the remaining dough and place on the same sheet.
Top each shamrock with about 1 tablespoon of pizza sauce and a sprinkle of cheese. Top with pepperoni or sausage and bake for about 10 minutes, or until cheese is melted and crust is golden brown.
Once pizza is done baking, top with arugula and serve immediately!
More fun pizza recipes
Buffalo chicken cauliflower pizza recipe
Easy snowman pizza recipe
Valentine's Day heart pizza